5 Epic Examples of #WheelchairBossLife
Wheelchair Users Living Life to the Fullest!
There are times in life when you turn your head and go, "Daaaang that is dope." Whenever you can apply this to someone who uses a wheelchair that is especially awesome. It's always fun to push the status quo when you become a wheelchair-user. So many people have less than positive expectations of wheelchair life, which becomes crystal clear once you're living the life. It's no wonder so many people want to prove this wrong.
As we all know, wheelchair life by default isn't terrible (although many with SCI do long for a cure). There are many around the world who use wheelchairs and live insanely cool lives that are beautiful, lush, loud, and definitely worth getting a little jealous over. We're sharing five of these amazing souls with you below.
Hailing from Chile, Paula Miranda is Ms. Wheelchair Chile and a psychology student. Also a C6 quadriplegic, she recently competed in Miss Wheelchair World and although she didn't win, she made a statement with her fashion, as she does in everyday life. Here she is looking sheik as all get out during a photo shoot for Miss Wheelchair World.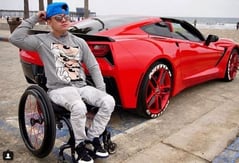 A wheelchair bodybuilder living in California, Matt Leone, a T12 paraplegic originally from Pittsburgh, was paralyzed in a motorcycle accident in 2005. Right after his injury, he discovered fitness, and bodybuilding soon followed. Here he is with his smoking hot red Corvette at Newport Bear Pier, CA last month. #WheelchairBossLife on fire right here.
A minor celebrity from Russia, Alena Bekisheva is a paraplegic, singer and model. She's also married to a paraplegic who is a rapper, and together they put on inspirational performances around their country. Here she is modeling a wedding dress for a well-known bridal magazine in Russia, Brakisemia. We love the draping. Bravo!
We may not know the name of this wheelchair-user, but he and his girlfriend hail from Aspen, Colorado and recently started blogging their travel adventures under the moniker @mountainswaveswheelchairs. Here they are at a private Onsen (a Japanese bathhouse) that they reserved while at their hotel in Japan. This is a beautiful shot showing that extravagant adventures can still happen from a wheelchair.

The originator of the #WheelchairBossLife hashtag, meet Stewart Tucker Lundy, a quadriplegic from Denver, Colorado who was paralyzed in a diving accident at 14 years old. He is a communications consultant for the City of Denver, helping change people's attitudes towards people living with disabilities. Tucker also owns his own communications company. Here he is in an ad for Quantum standing wheelchairs.
Don't forget, #WheelchairBossLife is certainly a thing.


Topics:
Survivor Stories & Inspiration
Stay Updated on Advancements On Traumatic Brain &
Spinal Cord Injuries
About the Author
Tiffiny Carlson
Since 1998, Tiffiny Carlson has been a prolific commentator on all things SCI in a number of prominent magazines, blogs and websites. Hailing from Minnesota, she was the SCI Columnist for New Mobility Magazine for 13 years and she currently works as the Executive Director of SPINALpedia, one of the leading websites for people with SCI to share videos and stories. She has been a C5-6 quadriplegic since a diving accident 24 years ago. Tiffiny has also been a fierce advocate for SCI research. In 2016, the Morton Paralysis Fund honored her for her work. While all SCI topics interest her, dating, love and the business of relationships have always been where her passion lies the most.
See More Posts