Access Trax and Their Vision to Make the Outdoors More Accessible
The story of San Diego-based company Access Trax begins back in 2016 when two Occupational Therapy students from the University St. Augustine for Health Sciences accepted a unique challenge to solve a real-world problem. Wheelchair accessibility across the United States and the globe remains a challenge even in 2018, decades after the passing of the first Americans with Disabilities Act. Barriers to access across uneven terrain such as sand at the beach is especially apparent due to logistics and cost. Current solutions on the market are either far too costly or have major design flaws. Without an effective solution, people who use wheeled mobility are far less likely to be able to enjoy outdoor recreation such as surfing, camping, or simply spending the day with family and friends at the beach.
In their Assistive Technologies course, students Kelly Twichel and Eric Packard designed and constructed a portable pathway that would assist adaptive surfers and beach-goers in crossing the sand in their wheelchairs with dignity and independence. They called it Beach Trax- a lightweight, foldable, portable pathway for universal access over uneven terrain. The first day they tested it back in October of 2016 with adaptive surfers at a local contest, the students knew they had to take Beach Trax to market. The students leap-frogged the pathway across the sand from the parking lot to the water's edge with the surfers because they only had two ten-foot hand-made sections to use.
"I remember one surfer telling us it was the first time in ten years he was able to cross the sand using his chair" Kelly recalls. "This athlete- who suffered a spinal cord injury while surfing years ago- typically chooses to move across the sand without help by using just his upper body strength. Imagine crossing hundreds of feet of sand in this way, expending enormous amounts of energy before you even compete. It made a huge impact on us knowing we could really change lives with this product. Everyone deserves to be able to do the things they want and need to do in life- regardless of ability."
The prototype success encouraged them to continue the journey.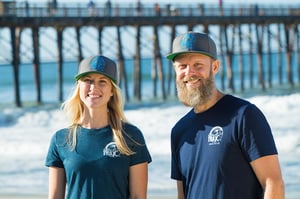 Within eight months, Kelly and Eric learned of a global business plan scholarship through their school and earned a spot as finalists where they won some cash for their start-up. With this, the inventors secured patent-pending status and continued product development locally in San Diego, finding a material supplier and manufacturer. They volunteered using Beach Trax with many local non-profits including the Stoke for Life Foundation, Waves4All group, Life Rolls On, AccesSurf Hawaii, the Challenged Athletes Foundation, and the World Adaptive Surfing Championships. The feedback from each use was invaluable as they continued improving the product. In February of 2018, the business officially launched as Access Trax, and Beach Trax became available to the public.
Kelly and Eric graduated from St. Augustine in 2017 and now work as Occupational Therapists in pediatrics in San Diego, while Kelly also runs the business.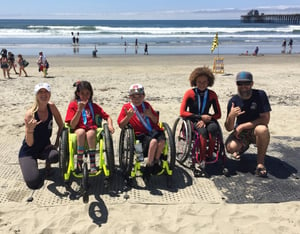 "I love both of my jobs" says Kelly. "I will always be a therapist, and I think that is what drives me to be so involved with my customers. I have that unique expertise to not only see why someone would benefit from Beach Trax from a business/customer viewpoint, but also from a holistic and therapeutic viewpoint."
Access Trax proudly manufactures in the USA and is available for sale locally and internationally. The company is excited to announce it is currently developing two new product lines each geared towards specific uses and audiences within outdoor access. Pathway rentals are also available for personal and event use. Beach Trax was recently used for ADA compliant access at a city-sponsored event in Riverside, California at a grassy park, and has been used for a stable path over the turf field at the Angel City Games in UCLA. Product uses are limitless, and Kelly enjoys exploring how to solve unique customer needs, providing "Access for Life."
Topics:
Technology & Advancements, Resources, Accessibility & Adaptations
Stay Updated on Advancements On Traumatic Brain &
Spinal Cord Injuries
About the Author
Kelly Twichel
Kelly Twichel is a Pediatric Occupational Therapist and Entrepreneur currently living in San Diego, California where she was born and raised. Working in the medical profession and helping people was always a goal and passion for Kelly. While her career trajectory changed a few times, she finally set her sights on OT back in 2015. "I saw what therapy did for my mom after she had suffered a massive stroke while I was a freshman in high school. That came back to me when I was a new grad from San Diego State University trying to find the path to my dream job. Helping people achieve health and wellness through therapy was how I wanted to make my mark in the world." While in grad school for OT, Kelly took a class called Assistive Technology where students where challenged to create a device that would help a specific population. That class project turned into an entrepreneurial journey because the invention worked so well. The product, now called Beach Trax, solves a global problem for individuals who need portable access over uneven terrain. It is a foldable, lightweight, portable access pathway designed to be universal and easy to use. While still in school, Kelly and her business partner earned a spot as finalists in a global business plan competition and won some cash for their start up. In February of 2018, the business officially formed as Access Trax. While Kelly still works as an OT in clinics and schools, she has transitioned to part-time so she can focus on the growth of the company and volunteer at adaptive surf events every chance she gets. She has volunteered with non-profits such as the Stoke for Life Foundation, AccesSurf Hawaii, Waves4All, Team Quinn Surf, and events such as the Angel City Games in LA. Universal design and disability rights advocacy are true passions for Kelly, and she recently began working with AccessibleTravel.Online to promote accessible travel accommodations. She is the first ATO office in the United States and hopes to raise awareness and influence real change in the travel industry and beyond. When not working, Kelly enjoys camping, cooking, and reading.
See More Posts