Conquer Paralysis Now - A Global Project of the Sam Schmidt Foundation
What We Do
Conquer Paralysis Now (CPN) is a leading authority on spinal cord injury (SCI) research and treatment. We are backed by an international coalition of medical doctors, research scientists and business leaders who share a singular goal: Finding a cure for paralysis.
CPN started in 2000 as the Sam Schmidt Paralysis Foundation. The founder's original intent was to fund research and provide advocacy and programming for SCI patients and their families. Though SSPF achieved many successes over the next decade, the ultimate goal remained elusive: a cure.
Achieving functional recovery from chronic SCI will be a historic milestone in the advancement of human knowledge and empowerment. The dramatic moment when an individual previously diagnosed with irreversible paralysis takes his or her first steps will be celebrated around the world. It will be a testament to humanity's progress in the mastery of science and nature.
We want to find a cure. We believe a cure is possible.
Who We Are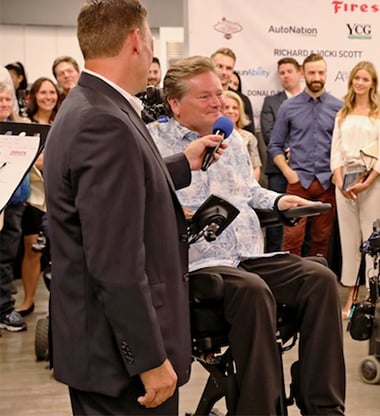 Sam Schmidt is paralyzed. Now an Indy Racing League owner, he was a driver when he sustained a C-3/4/5 spinal cord injury while practicing for the 2000 season opener at Walt Disney World Speedway.
He created the Sam Schmidt Paralysis Foundation (SSPF) that year to raise funds for medical research, innovative equipment used for rehabilitation, and quality-of-life issues.
Absolutely no funds raised for SSPF have ever supported his racing team, Schmidt Peterson Motorsports.
"We've been spreading the message that you need to stay in shape and keep working hard because some type of treatment is going to come," Sam says. "Frankly, I've come to the realization that I'm helping a lot more people since I've been injured than I ever could as a driver."
Sam's dream is to walk his daughter down the aisle when she gets married. What's yours?
Driven Neuro Recovery Center
DRIVEN is a multidisciplinary accessible fitness center where individuals with disabilities can improve their physical, mental and emotional health; increase independence; and enhance their overall quality of life using a holistic approach to wellness.

We are a non-profit program of Conquer Paralysis Now, a 501(c) 3 non-profit organization.
DRIVEN provides opportunities for individuals with disabilities to pursue a healthy, active lifestyle. Our goal is to fill in the gaps throughout Southern Nevada and provide an equitable fitness environment for those with limited mobility. While offering a variety of new opportunities, DRIVEN coordinates with existing programs in the region that cater to the needs of individuals with all disabilities.
Join Our Drive to Conquer Paralysis
On October 19th and 20th, Join our Drive to Conquer Paralysis at Driven Neurorecovery Center Las Vegas, NV.
Conquer Paralysis Now's goal is to cure paralysis. With your help, we will.
Our Mission is to cure paralysis by funding critical, cutting edge research and by providing rehabilitation at DRIVEN Neuro Recovery Center as a way of filling the significant gap in insured coverage.
Get your Tickets for this event here: http://www.conquerparalysisnow.org/event/drive-to-conquer-paralysis/
Want to Make an impactful difference today, tomorrow and beyond?
Read more about this here: http://www.conquerparalysisnow.org/donate/
For more information, please contact Executive Director Amy Daniels at adaniels@conquerparalysisnow.org
Stay Updated on Advancements On Traumatic Brain &
Spinal Cord Injuries
About the Author
Spinal Cord Team
SpinalCord.com has been created as a resource for patients of spinal cord injuries and their families. Find everything you need to learn more about your injury, locate a doctor or treatment center, or discover financial relief to support you through this difficult time.
See More Posts