There's nothing like getting your hands in the Earth. There are so many therapeutic benefits to gardening, from the physical benefits to the mental benefits, like fighting depression, and it's very therapeutic for people with spinal cord injuries.
It helps us feel one again with the world, which is especially helpful when you become paralyzed and no longer feel like yourself. This is one of the number one complaint of newly paralyzed folks.
Gardening also has beneficial effects on stress levels and anxiety, which can spike after a spinal cord injury.
But many people aren't sure how they can the garden from their wheelchair. Some think it's impossible, while others think it's too expensive and will require the skills of a carpenter. But this isn't true. Below we've outlined some must-have gardening tips for wheelchair-users from how to build a DIY garden bed to the best tool for weeding from your wheelchair. Have you started your garden yet?
Must: Rollunder Raised Garden Bed
One of the first things you must have is a garden area, and for wheelchair users this means an elevated garden because most of us can't get on our knees. While some people hire carpenters or recruit a friend/family to build them custom elevated garden beds, you can also make a DIY garden bed without any wood or nails.
This can be done using a grated square patio table, which is perfect because it has small enough holes to allow drainage, but is sturdy enough to make sure the soil does not escape. You do have to purchase landscape fabric and edging to complete the project, but a PCA should be able to help build it. Further directions here:
Also when building a raised garden bed, make sure it has knee space underneath so you can roll under and not get a sore neck (if you plan on gardening for long hours). Many people opt out of adding knee space, but it is worth it if you can. A sore neck will definitely occur from gardening on your side. Watering more frequently is also necessary in elevated beds, so make sure to always add drainage underneath.
Adapted Garden Tools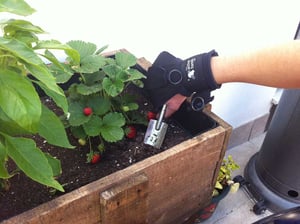 Once you have your garden bed setup and you've filled it with soil, your next step is planting seeds or seedlings in it. This can be difficult for some people with limited arm and hand mobility. If you are quadriplegic, for example, and have a hard time gripping tools, you can use a rubber band to grab the garden tools or you can use something like Active Hands grips, which can be used to hold nearly any garden tool.
The good news is that there are many ergonomically friendly garden tools that are now widely available at garden stores. Many have extended handles and there are even extenders for your hose. If you find anything like this at the store make sure to grab them up. When gardening from a wheelchair, one of the most important things to know is that having everything within reach will help you immensely, and having extended handles on your tools plays a huge part in making gardening more accessible.
Weeding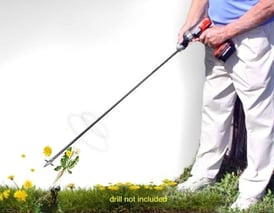 One of the hallmarks of weeding is that you must get on your knees, and even though with raised garden beds you don't have to get on your knees, it can be difficult if you have limited dexterity. A great solution to pulling out weeds is using the Weed Spinner, a simple long-handled tool that connects to a power drill. It can be easily purchased online for $13 and it works by pushing it into the Earth, twisting it, and then pulling it out of the Earth again. Many quadriplegics can use this tool quite well!
Indoor Growing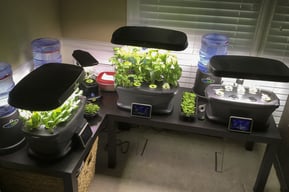 Remember that gardening can be for everybody, even if you live in an apartment without garden space outside. Consider purchasing window boxes and putting them on an elevated table inside of your apartment by a window. Many people grow herbs successfully this way throughout the summer months, and even into the winter as well. The Aerogarden is also an awesome hydroponic planter that can make growing herbs and other plants easy for anyone, since it requires minimal watering, the light is automatic, it can be placed on just about any surface, and it only requires nutrients every couple of weeks! Happy gardening!
To learn more about accessible gardening, check out Garden Access on Facebook, a wheelchair gardening group by a paraplegic gardener!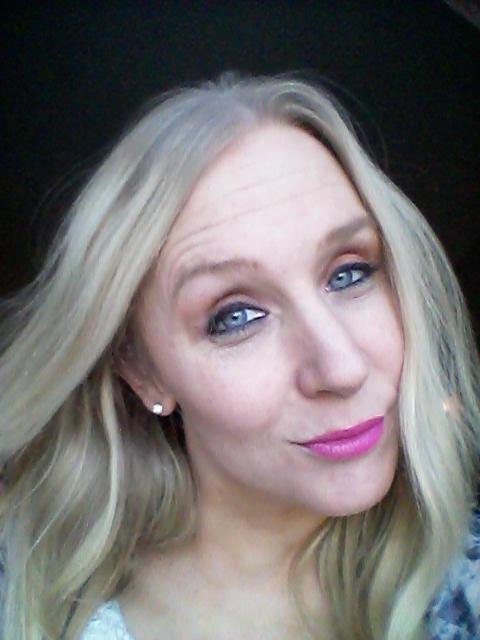 Since 1998, Tiffiny Carlson has been a prolific commentator on all things SCI in a number of prominent magazines, blogs and websites. Hailing from Minnesota, she was the SCI Columnist for New Mobility Magazine for 13 years and she currently works as the Executive Director of SPINALpedia, one of the leading websites for people with SCI to share videos and stories. She has been a C5-6 quadriplegic since a diving accident 24 years ago. Tiffiny has also been a fierce advocate for SCI research. In 2016, the Morton Paralysis Fund honored her for her work. While all SCI topics interest her, dating, love and the business of relationships have always been where her passion lies the most.
See what Swope, Rodante Has Done for Others With Catastrophic Injuries
Louis Tontodonato's Story
"What made me most excited was to be able to help my family, being able to pull the burden out of them that they've been struggling with. That's what made me feel the best. Everything else to come, is to come. And we're going to live life how we have been, just not going to have to worry about buying the supplies that I need."
"As I got better, which I did in the future, I think I remember researching them [Swope, Rodante P.A.] myself and found that they are very good at what they do. "