As we get closer to our 10-Year Anniversary Gala Event, let's look back on why NextStep Orlando started.
NextStep Orlando's Founder, Liza, talks about what changed her life 12 years ago…
"On April 21, 2007 I received the phone call no parent is ever prepared for. I was told my only daughter, Amanda, was being airlifted to a nearby hospital after a serious car accident. As I raced to the hospital, I could only think one thing: Please, let her be alive.
I was informed her neck was broken and she was paralyzed. According to her doctors, Amanda would never walk again.
Immediately, desperate panic for my child clawed at me, followed by feelings of confusion, anger, sorrow and uncertainty. I went from having an active, well-adjusted, daughter who loved her family, friends and participating in dance, to a battered, bed-ridden daughter, unable to sit up, feed herself or be in control of her bowel or bladder function. From her bedside in the hospital, I vowed to fight for my child's recovery. In the days and weeks that followed, Amanda was fitted for a wheelchair. We were informed our goals for regaining Amanda's independence and complete mobility were unrealistic."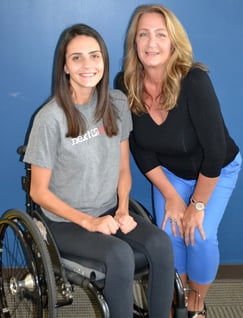 This horrible reality is similarly faced by over 11,000 families each year. There are very few options for recovery. A person living with a spinal cord injury is overwhelmed. They need recovery, hope, encouragement and a reason to wake up every day.
In 2009, our facility opened its doors as a registered Non-Profit facility to the public to provide hope and recovery for people living with paralysis. Based in Orlando, Florida, NextStep Orlando is a state-of-the-art paralysis recovery center, that is dedicated to meeting individuals various recovery needs. Our center and staff is dedicated to improving the quality of life for all persons with spinal cord injuries and other neurological disorders. Along with our exercise based recovery program, we aim to provide an environment where all clients and their families can gain knowledge, strength, support and guidance.
After 10 years of helping individuals living with Paralysis, what sets NextStep Orlando apart? Our Affiliation with the NeuroRecovery Network (NRN) ensures our Actvitiy-Based Trainers are certified within this network to provide aggressive research based therapies to our clients. We are SO proud to be the only Affiliate in the State of Florida.
We have a team of qualified, experienced and dedicated individuals who go above and beyond. Lets meet some of the team!
TRAVIS ALLEN
SENIOR ACTIVITY-BASED TRAINER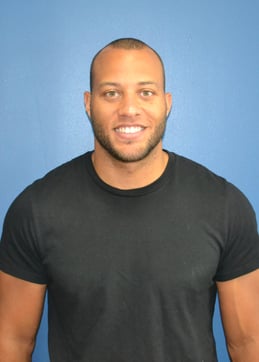 Travis graduated from the University of Central Florida with a bachelor's degree in sports and exercise science with a specialization in human performance. As a former college football player his attention to detail and performance-based training provides a key attribute in helping clients reach their unlimited potential both physically and mentally. His training and knowledge of the human body gives him the confidence to work with the SCI population and help guide in recovery!
LUIS OJEDA
ACTIVITY-BASED TRAINER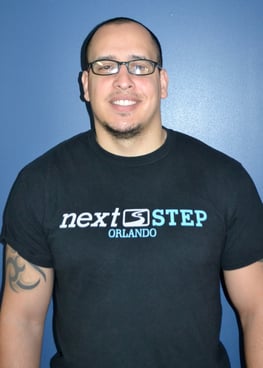 Luis first arrived at NextStep Orlando from Keiser University to complete a two month Externship at our facility. He received a Sports Medicine and Fitness Technology Associates from Keiser University in 2016. He became an integral part of the NextStep Orlando team and went on to become a Trainer Aid as well as a Part-Time Activity-Based Trainer. Luis served as a Marine from 2010 to 2015 and brings his eye for detail and determination to aid clients with paralysis reach their greatest recovery potential!
RYAN FASS
ACTIVITY-BASED TRAINER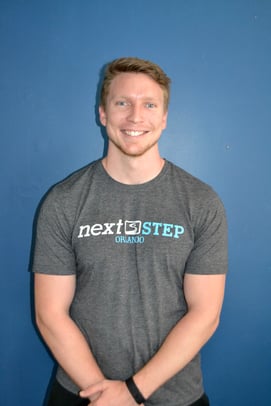 Ryan graduated from the University of Central Florida with a degree in Sports and Exercise Science through the human performance track. Ryan also is a certified personal trainer through the National Strength and Conditioning Association. He has a background in Personal Training from the YMCA and working at the UCF Recreation and Wellness Center. Ryan has a passion for health and wellness as well as helping others and will bring his training skill set and compassion to Next Step.
Kara Valliere
Activity-Based Trainer
Kara completed a three month Externship at our facility, where she grew in her knowledge and practical application of Activity-Based Training. Kara attended the University of Central Florida, where she completed a degree in Sport and Exercise Science with a track in Human Performance. Kara has joined the NextStep Orlando team as a Trainer Assistant, she is a dancer and brings her expertise of the human body to help promote recovery!
AMANDA PERLA
CLIENT SERVICES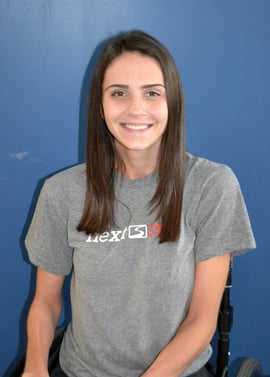 Amanda grew up in Longwood and attended Lake Mary High School. Her mother, Liza, first brought Amanda to NextStep headquarters in California in 2007. In 2009, Amanda's dreams came true when Liza founded NextStep Orlando. She has been a part of the recovery program ever since and is now the official scheduling coordinator. Amanda is also a speaker/ representative for NextStep Orlando and handles all social media. She is proud to be apart of a program that is not only making a huge difference in her life but in the lives of others too.
We are a family; we work hard together and create an environment where our staff and clients support each other. We love to see our clients grow as we watch improvements across the board: physically, emotionally and socially!
Do you want to become apart of our NextStep Orlando family? We are always looking for interns and volunteers for our program and events!
Check out our Events Tab on our Website to stay up to date:
https://www.nextstepfitness.org/events-nextstep-orl
Im Amanda from Orlando, FL. About 10 years ago, I had just turned 18, I had been dancing competitively for 11 years and was a month away from graduating high school when in a split second my life changed forever. On April 21, 2007 I was a passenger in a car accident that left me paralyzed from the chest down. I broke my neck and almost completely severed my spinal cord. I am now a C6 Incomplete Quadriplegic. Read Amanda's full story
here.
See what Swope, Rodante Has Done for Others With Catastrophic Injuries
Louis Tontodonato's Story
"What made me most excited was to be able to help my family, being able to pull the burden out of them that they've been struggling with. That's what made me feel the best. Everything else to come, is to come. And we're going to live life how we have been, just not going to have to worry about buying the supplies that I need."
"As I got better, which I did in the future, I think I remember researching them [Swope, Rodante P.A.] myself and found that they are very good at what they do. "