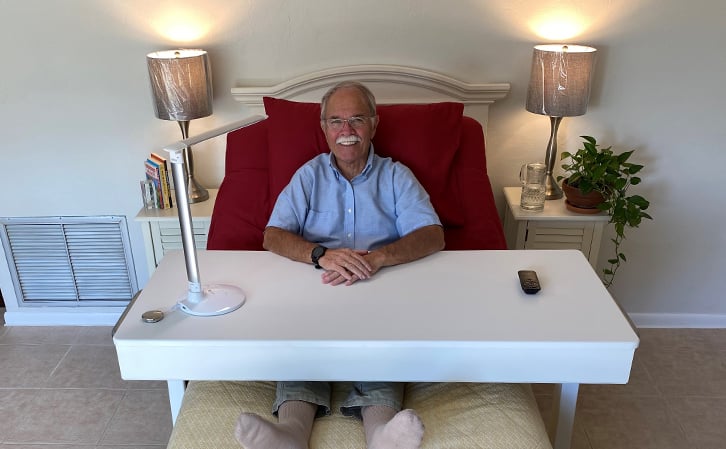 Every once in a while, something comes along that is so perfectly suited to the job it's designed to do… that we stop to ask ourselves:
---
"Why hasn't someone thought of that a long time ago?

Wow! What a great idea."
---
This article is all about that very thing, and that thing has a name; it's called a "Personal Overbed Table", but unlike anything else you've seen… this table was conceived, designed and developed exclusively for the spinal cord injury community.
I recently talked with one of the designers/developers of this table. His name is Mike Rink, he lives in Punta Gorda, Florida, a coastal community on the Gulf of Mexico just about an hour south of our offices. This is what he told me about his table:
---
"Several years ago, my wife Barbara and I met a young man in a wheelchair, in Anchorage, Alaska, who was slowly recovering from a serious motorcycle accident. He appeared robust and healthy, the spitting image of a young man in the bloom of his manhood. But as I said, he was in a wheelchair, the victim of a traumatic and complete spinal cord injury. As we talked, he began to share with us the story of his life post spinal cord injury life."
---
As we listened, of special interest to us was learning how difficult he found it to be to simply get into and out of bed unassisted. Drawing pictures in the air with his hands he explained how he leveraged his upper body up onto the bed first, followed by his legs, one leg at a time. "This is the scary part", he said. "I need to be very, very careful not to "drop" a leg onto the floor, or to bang it against the bed frame, possibly injuring my leg or my foot." The danger, he pointed out, was that the injury would not be felt by him and thus could go unnoticed, allowing it time to become a much more serious injury, perhaps even become life-threatening. He led us into his house where he eagerly demonstrated the entire process.
We learned from this young man that even though he appeared well adjusted and accepting of his new physical limitations, there was still a lifetime of new limitations yet to discover. We talked at length about his bedtime routine, especially the struggle he faced each day simply getting into and out of bed.
---
"Dropping something on the floor once in bed, presents an as yet unresolved dilemma. Should I very carefully make my way out of bed and onto the floor, where I will be forced to crawl around on my belly in search of the TV remote that fell off the bed? Or should I simply remain in bed and be forced to listen to a very long night of bad television?"

- Mike Rink
---
How does such a simple task for an able-bodied person, we thought, become so very difficult for a paraplegic man/woman or anyone suffering a spinal cord injury? Certainly, a solution could be found.
Thus, was born our commitment to "fix" this problem. Seven years later we had the solution to this problem and several others as well.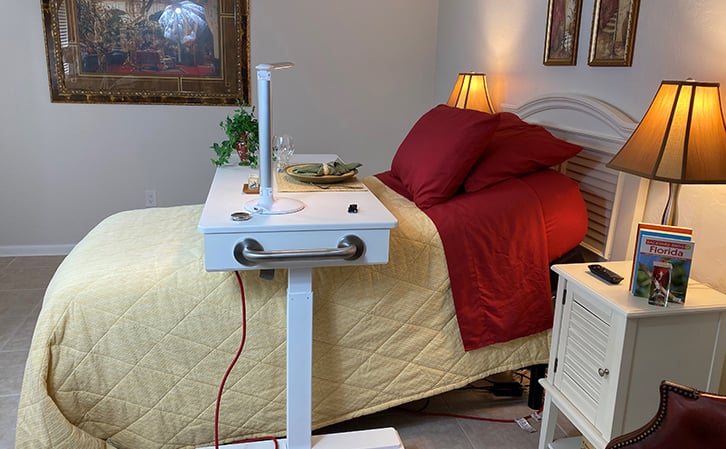 Mike sent me photos of his new table with the following comments:
The table has four hospital-grade casters supporting two electromechanical linear actuators capable of lifting 300 lbs., managed by a sophisticated electronic control unit discretely concealed within the desk where it remains free from dust and moisture.
The control unit is fully supported by a battery backup power supply.
The control unit is also equipped with a state-of-the-art anti-collision device that senses the slightest resistance to downward motion, thus preventing too much downward pressure that could cause injury. It also has a battery backup system that should power be lost. The battery will raise/lower the table as many as thirty to forty times and is kept fully charged by the control unit.
The table raises or moves down by gently lifting/pressing and holding a switch in the desired up or down position. The switch is easily overridden, if necessary, by the anti-collision device, shutting down movement instantly
They currently build three sizes: twin (hospital bed size), queen or standard king. Every table also has one, two or three drawers, two will be pullouts and one will be "spring" activated, depending on the model ordered.
Each table also has one or two led lamps, again depending on table size. Each lamp will have one or more USB outlets.
If you never want to risk dropping the TV remote on the floor, they have several solutions. Just let them know at the time of the order. Select, decide where you want it mounted, and suddenly the risk of losing that remote is gone forever.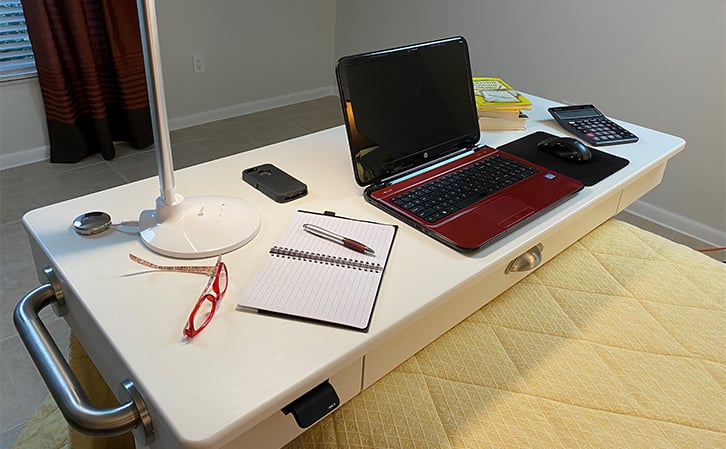 But is there more you can do with a table like this? The answer is yes.
For example, if you are in a motion bed, touch a button on the bed remote control and the bed will raise you to an upright sitting position. Next tweak the up/down table button just a little bit until the tabletop becomes a "desktop", positioned right in front of you at just the right level to suit your personal preference. Set up like this one can do almost anything, from reading a book to doing any job any able-bodied person can do sitting at a desk. Suddenly a new world is opening up to you. You now have a new virtual office. Celebrate and Revel in your new-found freedom!
For example:
Ever wanted a virtual office? Imagine an iMac computer, and all that it can do; the possibilities are endless. Like to write? There is no limit to the number of people or businesses looking for writers to develop content or manage a blog. That can be you.
Going to college? Take your Personal Overbed Table with you. Roll it right into the dorm and under a window with a great view. This becomes your new office. Big exam tomorrow? No need to suffer: Roll the table over your bed, put on some coffee and get ready to pull an all-nighter. It's a rite of passage. (p.s. be sure to set your alarm so you don't sleep right through the exam. Its been done).
Do you like working with computers? How about learning how to build web sites? Most people would rather pay for this service then learn how to do it themselves. All of the required tasks associated with building a web site can be learned from your new desktop, in bed or out. The table has wheels. Take it wherever you want to work in the house, or outside on the patio (clear sunny days only). The list goes on and on.
Like to sew? The tabletop is big, and I'm told it can become even bigger if you order a custom top when placing your order. Your desktop will grow an additional six inches front to back. Perfect for handling the large fabric. Let your imagination fill in the blanks.
I think you get the idea. But there is more. Your Personal Overbed Table is perfect for dining. Take a look at how inviting it can be. Have a queen bed? Order a queen Personal Overbed Table… and set the table for two!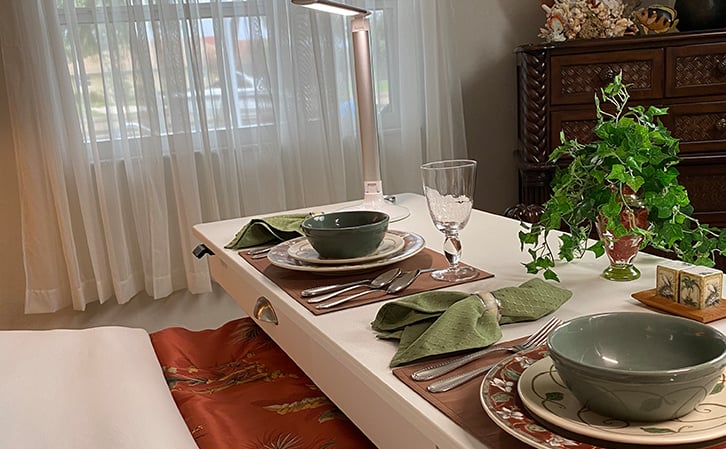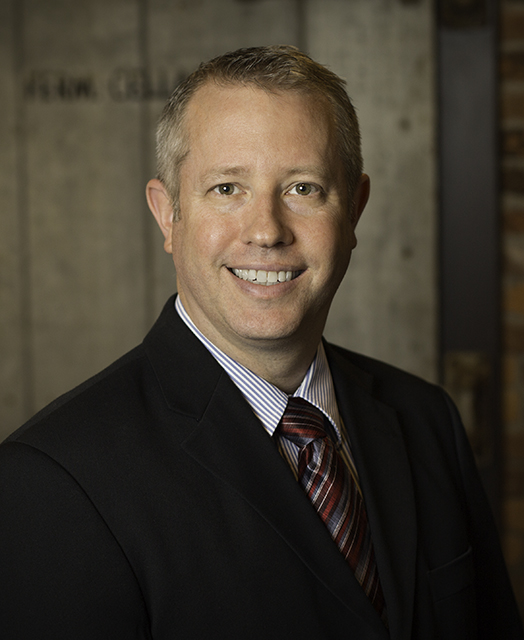 A the Director of Public Affairs at SpinalCord.com Vincent has had the opportunity to speak with thousands of individuals (and families) during every step of the recovery process. Vincent has combined his legal and marketing expertise to create the single largest resource for those impacted by a spinal cord or other catastrophic injury. While gathering and sharing these resources Vincent also spends time answering the SpinalCord.com hotline which allows him to better understand what families are going through. Vincent is actively involved in supporting various non profits within the SCI community, and is always open to helping in whatever way he can. Vincent also works with our sponsors Swope, Rodante P.A. to ensure families have every opportunity to obtain the resources which improve the quality of life for individuals after a spinal cord injury.
See what Swope, Rodante Has Done for Others With Catastrophic Injuries
Louis Tontodonato's Story
"What made me most excited was to be able to help my family, being able to pull the burden out of them that they've been struggling with. That's what made me feel the best. Everything else to come, is to come. And we're going to live life how we have been, just not going to have to worry about buying the supplies that I need."
"As I got better, which I did in the future, I think I remember researching them [Swope, Rodante P.A.] myself and found that they are very good at what they do. "