Spinal Cord Injury Stories: How 2 Survivors Focus Their Lives
Recently, SpinalCord.com published the first in a new series of blog posts on spinal cord injury survivors who share their stories and insights about living with spinal cord injuries. This article is the second blog post in the series, which aims to remind spinal cord injury survivors and their families during (and after) the recovery process of one critical message: you are not alone.
In the last article, spinal cord injury (SCI) survivor Tiffiny Carlson and SCI and traumatic brain injury (TBI) survivor Carley Dole shared their spinal cord injury stories, experiences, and insights about how their injuries shaped their lives and impacted their relationships with family members and friends. Carlson, a C5-C6 quadriplegic, was injured during a diving accident at age 14, and Dole was injured in an incident with a horse as a high school freshman.
In this article, Carlson and Dole share about what their lives are like now and how their SCI experiences have inspired them to help and share their spinal cord injury stories with others.
What These Spinal Cord Injury Survivors Are Doing Today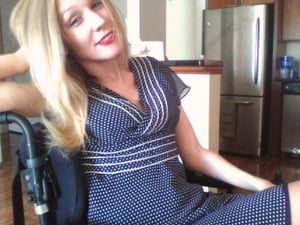 Carlson, who works as the executive director of SPINALpedia.com, also serves as an online writer and the founder of the longtime disability site BeautyAbility.com. She previously served as the SCI Life columnist for New Mobility magazine for 15 years, and her work also has been featured in The Huffington Post, Nerve.com, Playgirl, and on SpinalCord.com.
As a writer, Carlson hopes to inspire and encourage others with spinal cord injuries through her work. She aims to continue making a difference in the lives of other women by sharing her spinal cord injury story and experiences.
Dole is a senior at Northern Michigan University (NMU) in Marquette and is pursuing a bachelor's degree in psychology. In Spring 2018, she received a bachelor's degree in public relations and an associate degree in human behavior. Before her accident, which took place when she was a high school freshman, Dole was always very active in the community. In her free time, she still volunteers with multiple organizations, including a few in the area of economic development.
In recognition of her efforts in the local community and with TBI-related organizations, Dole was selected by Swope, Rodante P.A. to receive a July 2018 scholarship for $2,500 to go toward her education.
How Their Injuries Changed Their Outlook on Life
For Carlson, the spinal cord injury she sustained 25 years ago and the experiences she had with other women with SCIs have helped to shape her into the woman she is today. Several women, in particular, had significant influences in her life — the late WCCO-TV reporter Darcy Pohland, a quadriplegic who served as her mentor, and another spinal cord injury survivor named Stephanie who became Carlson's best friend. Stephanie and was responsible for helping Carlson to come out of her shell and become a stronger and more confident woman.
"I had these two ladies who were huge in my life. And I would probably say that those two would be the most important, though... Everyone influences you in one way or another; hopefully, the good people influence you. Those women were huge and were bosses in their own way."
Carlson says that her interactions with Pohland, in particular, inspired her to want to make something of herself and be as successful and inspirational to other spinal cord injury survivors. With her friend Stephanie, Carlson learned to put less emphasis on what others think concerning her injuries or being in a wheelchair, and to focus more on being herself.
However, one of Carlson's most significant learning curves is something she still struggles with on a daily basis: learning to deal with loss constantly from an SCI:
"You deal every day with loss; there's this part of your body you can't feel or move, and it's hard. It's like grief: You learn how to live with it, but it's always changing. And, I think as you get older, you need to figure out a new way to be okay with it… When you're dealing with such a life change as a spinal cord injury, it's an ongoing process."
Dole says her injuries also have given her a different perspective of herself and life in general. As someone whose TBI and SCI left her not knowing who she was and having to relearn to walk and talk, Dole says that she has learned what is important in life and now wants to focus on not taking anything for granted:
"I used to be a very type-A personality; I was a perfectionist before my accident. After my accident, it made me realize that I didn't have to be that way. Now, it's more about being present and being in this moment now and enjoying the little things. My way of life and thinking have changed, and now I have more flexibility."
Although some SCI and TBI survivors become more reserved after their accidents, Dole says she has become more outgoing and social since hers. She believes this change in her mindset helps her a lot as someone who volunteers with local disability organizations and shares her TBI experiences and spinal cord injury story at events. Dole says that she views her injuries as an opportunity to explore new possibilities and to build new connections in the community.
How Their Experiences Inspired Them to Help Others
Carlson's way of reaching out to others in the SCI community has largely been done through her writing over the past 25 years. Through her website BeautyAbility.com, Carlson says that she has provided indirect mentorship to numerous women with SCIs over the years while hearing about their spinal cord injury stories. Carlson shares that many told her that her site changed their lives when they were newly injured:
"It's great to hear from people like that because it is nice. When you've been writing and doing stuff online for as long as I have, then it's great. While I'm not doing any direct mentorships, one-on-one, with people, I know with my website helps people. It's been one of the greatest things, I think — just helping other women who are newly injured… I'm always happy to help."
Carlson, who has shared her spinal cord injury story and spoken at events around the U.S. about health and beauty for people with spinal cord injuries, tries to encourage other survivors to take advantage of the robust SCI online communities that now exist.
"It's pretty exciting just to see the evolution of the internet. I really believe YouTube and smartphones have really changed the dialogue of people with spinal cord injuries," says Carlson. "You can just share your life now. If you find yourself newly injured, then you can go online and go on YouTube and you can find people like yourself on Instagram."
For Dole, she wants to help others in another way in sharing her TBI and spinal cord injury story. Although she doesn't remember it, Dole says her parents tell her that she wanted to be a neurosurgeon to help people with brain injuries from the time she was age 8. Although that dream is now not coming to fruition in the way she originally envisioned, Dole says that she still wants to use her injuries and experiences to help others with traumatic brain injuries get the help and resources they need. Her goal is to help others with similar injuries lead independent, productive lives.
Dole shares that she plans to start a nonprofit organization with a focus on traumatic brain injuries within the next five years. The goal is for it to serve as a resource for young adults with spinal cord injuries and TBIs and their families, much like SpinalCord.com did for her.
"If I could create something like that for these communities and their families, that would be a dream come true," Dole says.
If you have suffered a spinal cord injury and would be interested in sharing your story for a potential future SpinalCord.com article, please be sure to share the information about your injury and experiences by clicking on the button below.
Topics:
Spinal Cord Injury, Survivor Stories & Inspiration
Stay Updated on Advancements On Traumatic Brain &
Spinal Cord Injuries
About the Author
Spinal Cord Team
SpinalCord.com has been created as a resource for patients of spinal cord injuries and their families. Find everything you need to learn more about your injury, locate a doctor or treatment center, or discover financial relief to support you through this difficult time.
See More Posts