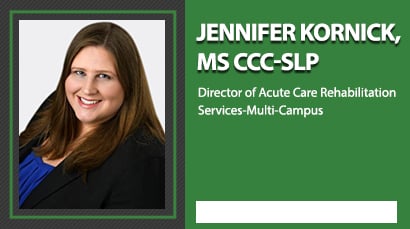 As the multi-campus rehab director for AdventHealth, Jennifer oversees a large dynamic multidisciplinary team of therapists and support staff. She is responsible for developing strategies for department process improvement initiatives, recruiting/orienting new staff, and ensuring staff compliance with all organizational policies and procedures. Jennifer works closely with patients in the acute care hospital who have a history of spinal cord injuries, traumatic brain injuries and strokes in attempts to help them to relearn vital communication skills.
Upon graduating with her Master's Degree in Speech Language Pathology from Duquesne University, Jennifer joined the AdventHealth family. Jennifer was twice named model of excellence for AdventHealth and was also selected to attend the prestigious REACH leadership development program.
Jennifer is passionate about the rehabilitation professions and was a chosen speaker for a national symposium on overcoming disabilities. Jennifer loves to travel and currently lives in Orlando, Florida with her husband and corgi.
Specialty Expertise
Specializes in speech and language related disorders due to TBI, stroke, and other neurological conditions such as Parkinson's, Dysphagia (difficulty swallowing), and Passy Muir Speaking Valves for patients with tracheostomies.
Education
Certification
Model of Excellence
Practice Location
601 E Altamonte Drive
Altamonte Springs, FL 32701
Phone: (407) 303-5600