Activity Based Therapy Center Spotlight: NextStep Orlando
Activity based therapies, or ABTs, provide those with life-changing injuries an accessible and affordable road to improvement. Currently, there are 6 million people suffering from paralysis in the United States with only an average of 36 days spent in rehab before being discharged home.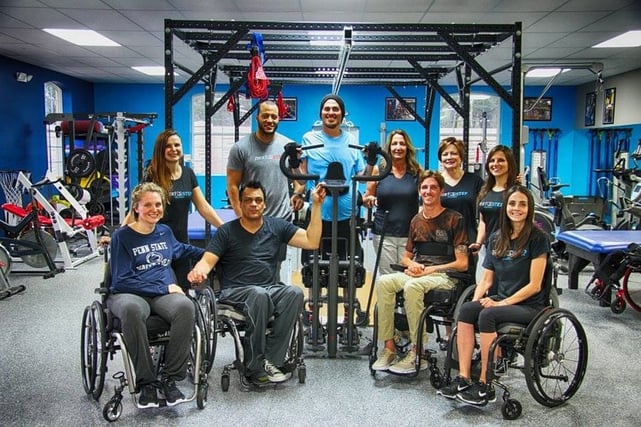 Unlike traditional therapy programs, activity based therapy centers focus on maximizing muscle return through repetitive and motor-patterened activities.
Activity based therapy programs like NextStep, provide paralysis recovery with cutting edge equipment, trainers, and therapies.
Amanda's Story
On April 21, 2007 Liza Riedel, Founder of NextStep Orlando, received the phone call no parent is ever prepared for. She was told her only daughter, Amanda, was being airlifted to a nearby hospital after a serious car accident. Once there, Liza was informed Amanda's neck was broken and she was paralyzed. According to her doctors, Amanda would never walk again.
"About 10 years ago, I had just turned 18, I had been dancing competitively for 11 years and was a month away from graduating high school when in a split second my life changed forever. On April 21, 2007 I was a passenger in a car accident that left me paralyzed from the chest down. I broke my neck and almost completely severed my spinal cord. I am now a C6 Incomplete Quadriplegic."
This horrible reality is similarly faced by over 11,000 families each year. There are very few options for recovery, especially in Florida. In 2009, Liza founded NextStep Orlando, a 501(c)(3) nonprofit organization established to help those suffering with a spinal cord injury (SCI) and other neurological disorders such as stroke, traumatic brain injury (TBI), etc. improve their daily living – by regaining function and perhaps, even walking again. The program is modeled after the highly successful NextStep® in Redondo Beach, California.
NextStep Orlando
NextStep Orlando's specialized, aggressive and comprehensive exercise-based program is a proven methodology for SCI recovery and extends the program's reach and affordability to the southeastern United States, Florida residents and beyond.
The ultimate goal at NextStep Orlando is to help our clients regain function through exercise and to walk again. But more importantly, it is to increase their quality of life and decrease secondary complications that kill people in wheelchairs, like pressure sores and heart disease.
"Because of NextStep Orlando I have somewhere to exercise consistently, I have a part time job, I live on my own, and I've started to drive again. But the best part is the friendships I've formed with our clients and their families... Being able to restore their hope for their recovery and their future after they've been told there is none makes it all worth it to me." Read Amanda's full story
Q & A From NextStep Orlando:
1. What is an Activity Based Therapy Center?
An Activity-Based Training Center focuses on recovery by providing therapies that have a task-specific focus. NextStep Orlando will focus on specific training principles that ensure that recovery is always the ultimate goal and NOT compensation. The nervous system has the capability to learn, but only what it is repetitively taught. An ABT gym like NextStep Orlando increases the activation of the central nervous system (spinal cord) through certified training methods learnt through the NRN Affiliation.
2. What is the difference between what you do and "regular" rehab?
At NextStep Orlando, we provide a one-on-one, aggressive, exercise-based recovery program. The entire workout session will take place out of the wheelchair and will work with the entire body, taking the client through movements that the body is designed to do.
3. How does activity based therapy impact recovery?
NextStep Orlando's ABT focuses on retraining the nervous system below the level of injury.This is accomplished through repetitive training of specific motor tasks that provide typical sensorimotor input to the nervous system. The session will focus on repetition of movement to promote neuroplasticity (the brain's ability to reorganize itself by forming new neural connections), load bearing to promote bone health as well as core and trunk control.
4. How does activity based therapy impact overall health?
Activity based training promotes health and wellness. This in turn improves circulation, reduces pressure sores, helps with range of motion and flexibility
5. Does the center offer anything beyond the actual therapy?
Along with our exercise based recovery program, we aim to provide an environment where all clients and their families can gain knowledge, strength, support and guidance. We have various events throughout the year as well as dinners and movie nights.
6. Is activity based therapy more painful?
No it is not, it is harder and designed to push our clients to their maximum potential. The Activity-Based Trainers will still work within the pain threshold and ensure the safety and health of our clients.
7. What do you hear motivates your clients the most?
Our environment is one that supports our clients to get motivated to get better at all the modalities that we provide. Being in a facility with a lot of other highly motivated clients with similar injuries helps when they share ideas on how they do certain things. This allows for constant knowledge to be gained and provides encouragement to try new things.
8. Do you offer scholarships?
We do have a scholarship fund, which is run by a family of a previous client of ours. There is an application form which clients can complete. NextStep Orlando also provides resources to other funding options and grants.
9. Could someone take your classes and then recreate the activities if they have limited financial means?
If the client's aim is to recreate the activities at home, then this certainly an option. The activity based trainers will go through various options of how to do certain exercises that are safe to be a part of home based therapy.
10. To get the most benefit and stay as healthy as possible how often should clients work out?
This depends on how active the client is on a daily/weekly basis, as well as if they are currently doing any home based therapy. In general, we recommend that our higher level clients do therapy for 3 hours, 3-5 times a week and the lower level clients for 2 hours 2-4 times a week.
11. Does Next Step, Next Step Orlando, or your group individually have a motto? Or something that inspires them to push through when a workout (or life) gets tough?
NextStep has a word which is used to inspire both the trainers and the clients: Sisu. Sisu is a Finnish concept that describes determination, grit, bravery, resilience, and hardiness.
12. Do you have any advice you would give someone who doesn't have an activity based therapy center near them?
First, we would recommend that they come to NextStep Orlando for a visit to be assessed and receive a home based therapy program. This is to ensure that the individual is moving the body with the best technique possible and not creating bad habits.
Stay Updated on Advancements On Traumatic Brain &
Spinal Cord Injuries
About the Author
Amanda Perla
Im Amanda from Orlando, FL. About 10 years ago, I had just turned 18, I had been dancing competitively for 11 years and was a month away from graduating high school when in a split second my life changed forever. On April 21, 2007 I was a passenger in a car accident that left me paralyzed from the chest down. I broke my neck and almost completely severed my spinal cord. I am now a C6 Incomplete Quadriplegic. Read Amanda's full story
here.
See More Posts