10 Amazing Spinal Cord Injured TikTok Creators
Publish Date: July 15, 2022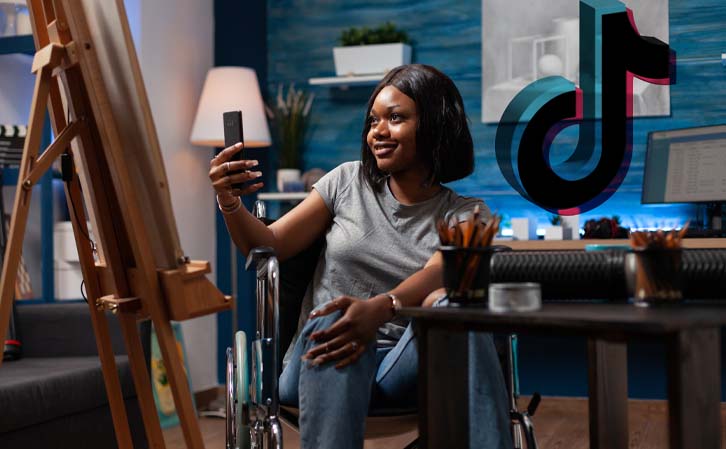 Love it or hate it, TikTok is the number one social media platform in the world and there are thousands of people with disabilities on it sharing their stories. If you're interested in the journeys of people with spinal cord injuries, they're sharing as well, creating videos about life with paralysis.
These videos are not only helping educate the world on spinal cord injuries, but they're also helping people with new spinal cord injuries seek peer support and answer questions about life with a spinal cord injury and what is possible. There are many people sharing their lives with paralysis right now on the app, but we narrowed it down to the top 10. See our picks below!
1. It's Mitch
https://www.tiktok.com/@mitchywheelie
Mitchell Garrett is one of those guys you can't help but love. He launched his Tiktok account in 2019, 2 years after his ATV accident, and he's racked up 5.2 million likes. His videos are always on the funny side. A T4 paraplegic in his early 20s, Mitchell is striving to get stronger in his core, which has gotten stronger because of adaptive boxing. He shares how he's become more independent thanks to adaptive sports.
He's also a lifelong athlete and was an avid hockey player before his injury. Mitchell is now a member of the British Columbia Para hockey team. He credits boxing for helping him get stronger in several areas of life. Mitchell also humorously shows things like how he gets upstairs with and without help, and his sister is often in his videos, dancing with him to the latest Tiktok dance trend.
2. Taylor LN
https://www.tiktok.com/@taylorln93
If you want to be inspired, look no further than Taylor Lindsay-Noel, otherwise known as Taylor LN on Tiktok. New to the app, just joining this past May, she's amassed 5 million likes in 2 months. A former gymnast who was a member of the Canadian National Team, on her way to the 2012 Olympics, Taylor broke her neck at 14 doing exactly what she loved, but that hasn't stopped her.
She's the CEO and founder of Cup of Tea, an organic loose-leaf tea company, and she's become an accessibility expert on Tiktok, reviewing the accessibility of establishments throughout Toronto, Canada, where she's from. This 28-year-old is also passionate about sharing videos on life as a woman with quadriplegia, from talking about what men tell her on dating apps to explaining what a quadriplegic is and why she can still move her arms.
3. Tgilly
https://www.tiktok.com/@travisgilmoree
Paralyzed in March 2020 while wrestling with friends, Travis Gilmore from Texas was a senior in high school at the time of his injury. Becoming a C5 quadriplegic at the beginning of the pandemic, Travis was determined to not let his injury stop him from reaching his goals. A lifelong athlete and a baseball player, Travis has reached some amazing goals post-injury like walking 1000 steps in a Locomat exoskeleton, mastering transferring, and being accepted to Texas A&M University.
Around 1 ½ year after his injury, Travis discovered TikTok, posting his first video in October 2021 which shared his injury story. He likes to share videos on things like how quickly life can change (he was always healthy until he broke his neck) to how he handles going out in public post-injury. He also shares "Day in the Life" videos, showing how he lives as a quadriplegic.
4. Anthony Sanchez
https://www.tiktok.com/@wheelchairpapi
Anthony Sanchez, otherwise known as Wheelchair Papi, is a dedicated father from Texas and an up-and-coming actor. Injured in a motorcycle accident in 2014 while riding to the hospital to see his first daughter born, Anthony went through a dark period after his injury but fortunately made it through. After starting his TikTok account in 2020, he now has over 7.8 million likes and over 500,000 followers.
With his adorable daughter Mya frequently guest starring in his TikTok videos, Anthony has been able to reach people with paralysis and those without paralysis, making him a great advocate for the SCI community. His videos range on a variety of important topics for people with spinal cord injuries from parenting, traveling, and weight loss.
5. Nicole Summers
https://www.tiktok.com/@nicolelynn333
Paralyzed in August 2013 in a car accident at 17 years old, Nicole Summers is now a 28-year-old woman with a C3 injury from Montana. She's been sharing her life and struggles on Tiktok. After her injury, she moved to a larger town in Montana for activity-based physical therapy. She now has over 2.8 million likes on her videos.
On TikTok, Nicole shares how she's able to do things as a quadriplegic, such as how she drives her wheelchair with her mouth to all the things a mouthstick allows her to do. She launched her TikTok account in April 2021 and has shared hundreds of SCI-related videos. She also makes videos on mental health after paralysis and missing your old body.
6. Joel Roberts
https://www.tiktok.com/@joelroberts1992
Joel Roberts, a T7-9 paraplegic, is a husband and father from England who was paralyzed when he had a spinal cavernoma removed (an abnormal cluster of veins) from his spinal cord in late 2020. The three women in his life, Olivia, his wife, and his two daughters Rose and Poppy, are seen often in his videos.
After launching his Tiktok in March 2021, he has amassed 501k likes. Not shy about sharing his struggles, he posts videos sharing how he parents from a wheelchair, how he does everyday things like cooking to how he uses an electric bike add-on on his manual wheelchair. He especially highlights his physical therapy sessions, swimming, and his ongoing effort to "wake up his legs."
7. Erin Field
https://www.tiktok.com/@erin.fieldd
When she was paralyzed by a falling chimney in 2017, Erin Field's story was seen nationwide. In 2020, she started sharing her journey as a C5-6 quadriplegic on Tiktok. Erin was drawn to TikTok for several reasons. "It's different because it's much easier to have your videos seen by people all over the world. And it's easier to go viral and reach many more people compared to any other social media platform," she says.
When she joined, she quickly amassed 134.1K followers. "I got most of my followers from the viral video about my injury with my boyfriend." "The purpose of my videos is to spread awareness about spinal cord injuries and prove that you can keep on living an amazing life and that you can be happy. I also want to educate people on spinal cord injuries. Even if it's something funny about spinal cord injuries, it's good for people to see the videos and become more comfortable when seeing someone with a disability."
8. Jessica Tawil
https://www.tiktok.com/@jesstawil
At only 23 years old, Jess Tawil may be one of the most popular people with a spinal cord injury on TikTok. Injured in 2015, this Lebanese-American woman from New Jersey became massively popular after sharing what it was like to be paralyzed with her followers. She has over 2 million followers, and it keeps growing by the day. As a T6 paraplegic, she shares a wide variety of things about her life with a spinal cord injury from getting into a car to how she showers.
9. Ernest
https://www.tiktok.com/@hotdogcartt
Ernest, a young man with a C6 injury from Miami, Florida, is another amazing person with paralysis to follow. He mixes humor with life with a spinal cord injury, and it is brilliant to see. He has around 70k followers and millions of likes. Some of his humorous videos include a video with the caption, "How do I tell my dad I left my wheelchair charger at home 6 hours into a 13-hour road trip" and a video about how annoying it is when people come up to him and say, "Just get up and walk."
10. Jesi Stracham
https://www.tiktok.com/@jesistracham
Jesi Strachan has become massively popular for her adaptive exercise videos and for being real about life with a spinal cord injury. Never beating around the bush, Jesi shares raw life with a spinal cord injury and isn't afraid to shed a few tears along the way. She has amassed over 250k followers because of this. Jesi shares a wide variety of videos sharing her life, and many have a motivational tone. An active woman who's always outdoors and busy with her dogs, she is a fun person to follow.
The world has come a long way for people with spinal cord injuries. This is largely part because of the invention of the smartphone. Apps like TikTok are enabling people to share their lives with the world. We hope it continues to help the newly injured and beyond.
Topics:
Taylor LN, Tgilly, Nicole Summers, Joel Roberts, Erin Field, Ernest, Spinal Cord Injured, It's Mitch, Anthony Sanchez, Jessica Tawil, Jesi Stracham
Stay Updated on Advancements On Traumatic Brain &
Spinal Cord Injuries
About the Author
Spinal Cord Team
The authors of Spinalcord.com are made up of attorneys, those in the medical field, and survivors of spinal cord injuries or traumatic brain injuries. Learn more about our team of authors including a brief biography that explains how they impact the SCI and TBI community.
Learn More About the Author