10 Best Accessible Beaches in the USA
Publish Date: December 08, 2020
Accessible beaches are exploding across the US. In the last few years, there has been a push for accessible beaches thanks to the invention of beach mats and beach wheelchairs. Plus, in countries like Spain, beach accessibility has been the norm for years. The trend has finally caught on here and there are numerous beaches to choose from and in regions across the country. Please read on to discover 10 accessible beaches right here in the US you do not want to miss.
10. Panama City Beach, FL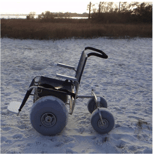 Located in the panhandle of Florida, two years ago Panama City installed long Mobi-Mats that extend close to the surf. The county of Panama City bought two floating beach wheelchairs as well that can be used free of charge. In addition, you can rent power beach wheelchairs from Beachpoweredmobility.com, a beach wheelchair rental company that serves the panhandle of Florida. Learn more: http://www.emeraldcoastaccessible.com/beach.html
9. Mission Beach, CA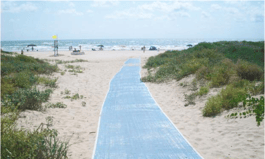 Mission Beach, Imperial Beach, and some of other public beaches in the San Diego area offer free power beach wheelchairs that are available on a first come first served basis. Several public beaches in the San Diego area also offer plenty of accessible parking. Manual and floating wheelchairs are offered as well, with Mobi-Mats at only three public beaches. Unfortunately the mats don't go all the way to the waters edge, but it's a start. Learn more: https://www.sandiego.gov/sites/default/files/beachaccesslocations.pdf
8. Hanauma Bay Beach, HI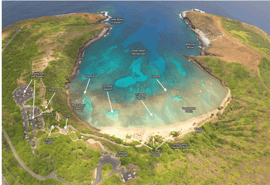 Meaning "Curved Beach" in Hawaiian, Hanauma Bay Beach has a 1,800 ft long shoreline. Free beach wheelchairs are available from 8-4pm. Accessible changing areas, as well as nearby accessible shuttle, bring you on scenic tours. All of the facilities on the beach are also fully accessible to guests with disabilities, and there's a tram to and from the beach area that has a ramp. Learn more: https://hanaumabaystatepark.com/hanauma-bay-accessibility/
7. Gulf Shores, AL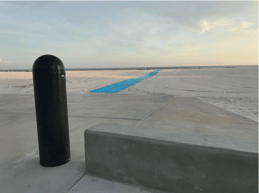 Located on the coast of Alabama, Gulf Shores is a city that's worked hard to improve its accessibility. They offer AccessMats on the west end of the Main Gulf Shores Public Beach. It stretches 200 feet and runs parallel with the Gulf of Mexico for 150 feet. In addition, there are several places you can rent beach wheelchairs from, including power beach wheelchairs. Two manual beach wheelchairs are also available free for public use. Learn more: http://www.gulfshoresal.gov/1268/Accessibility
6. Outer Banks Beaches, NC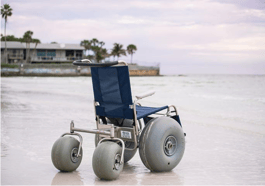 Along the coast of North Carolina is a string of barrier islands called the Outer Banks. This popular destination spot has many accessible beaches, which be found here in well-known towns such as Duck, Kill Devil Hills, Kitty Hawk, and Nags Head. Fire departments in towns here will loan out beach wheelchairs. Also, Coquina Beach has beach wheelchairs. Mobi-Mats are found at two beaches as well - Eighth Street Beach Access and Jennette's Pier Beach Access. Learn more: https://www.outerbanks.org/plan-your-trip/beaches/handicap-accessibility/
5. Cape Cod, MA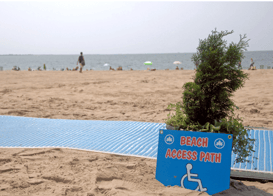 A beach-filled section of the coast of Massachusetts, there are a number of beaches in towns throughout Cape Cod that offer beach wheelchairs (both over-sand and floating) that are free of charge, as well as accessible boardwalks in many locations and ADA changing areas. A few of the most accessible beaches are Brewster Beach (they offer 3 beach wheelchairs), South Cape Beach (accessible picnic tables) and Old Silver Beach.
4. Edisto Beach, SC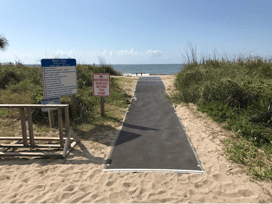 A popular vacation spot in South Carolina, the fire department in town loans beach wheelchairs free of charge. There are also 6 accessible public access points to the main beach. Learn more: http://www.townofedistobeach.com/fire
3. South Padre Island Beaches, TX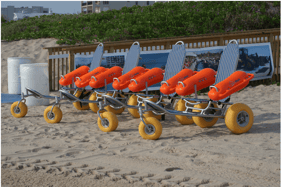 Located on the coast of Texas, there is a huge beach here that offers free beach wheelchairs for public use. They have several accessible beach access points and 6 Mobi-Chairs. Twelve of the 24 beach access areas have Mobi-Mats as well. Beach wheelchairs are available for free of charge at Malaquite Visitor Center. Learn more: https://www.myspi.org/egov/apps/document/center.egov?view=item;id=1489
2. Virginia Beach, VA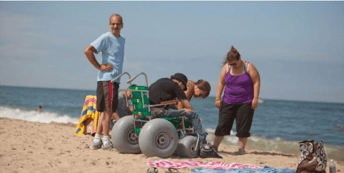 Virginia Beach is a popular beach that is known for its accessibility. They offer 100 accessible parking spots, a ramp to the beach, accessible restrooms and an ADA park for kids with disabilities. Beach wheelchairs that are free to use are available at three locations, including Grommet Island Park. Learn more: https://www.vabeach.com/virginia-beach-handicap-access/
1. Cannon Beach, OR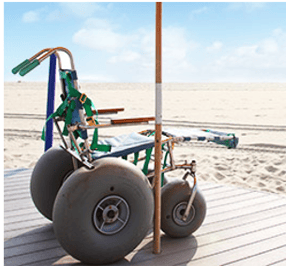 A newly accessible beach in Oregon, in the Pacific Northwest, is Cannon Beach. This beach has free beach wheelchairs for the public, accessible bathrooms and accessible. Learn more: https://www.cannonbeach.org/plan-your-trip/beach-wheelchairs/
The good news is that there are plenty of more beach wheelchairs available at beaches around the country. Honorable mention goes to the City of New York City. They offer several accessible beaches with beach wheelchairs and mats, which found here: https://www.nycgovparks.org/accessibility/beach-trail
Stay Updated on Advancements On Traumatic Brain &
Spinal Cord Injuries
About the Author
Spinal Cord Team
The authors of Spinalcord.com are made up of attorneys, those in the medical field, and survivors of spinal cord injuries or traumatic brain injuries. Learn more about our team of authors including a brief biography that explains how they impact the SCI and TBI community.
Learn More About the Author