10 Resources Every Caregiver for Paralysis Should Have Handy
Publish Date: December 07, 2020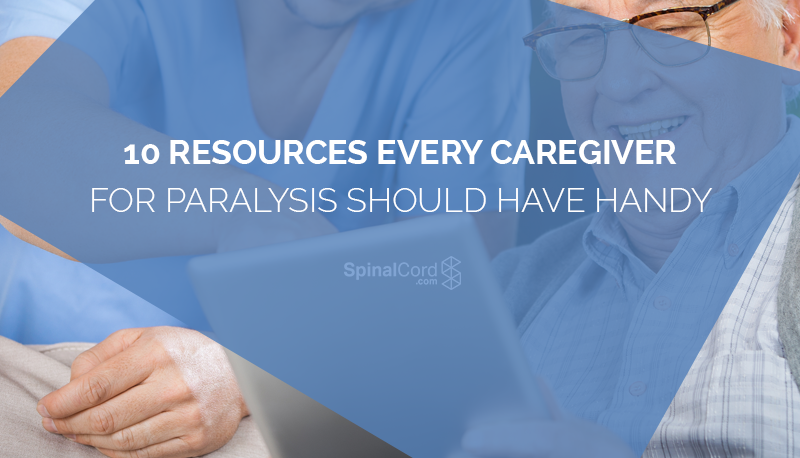 More than 90 million Americans are caring for a loved one and nearly half of family caregivers do so within their own home. Spinal cord injuries not only have a dramatic effect on the lives of the victims, the lives of those caring for them must change as well. Because there are so many people going through this extremely difficult situation, a large amount of resources for caregiver support have been developed.
Such resources help with finding a good doctor, locating treatment near you, and assisting you with legal action you may have to take to help you cover the financial burden that has landed on you. They also provide information about local support groups and even mobile apps have been created specifically to help keep your workload and schedule organized.
A caregiver's awareness is essential for them to provide the quality care for a family member suffering from an SCI.
10 Resources Geared for this Purpose
This site gives caregivers guides that will show them how to plan and carry out the transitions that must now occur in their loved one's lives. Such transitions include moving between care facilities or the start and end of certain types of treatment.
This program is a free web service with a calendar that each caregiver can add to when they have a task they need assistance with. Family and friends that the caregiver has shared the calendar with can visit the site and sign up to help with the tasks that have been posted. The website also provides a summary of the tasks that remain unassigned.
This link tells you the information you need to know about the financial decisions you may be faced with as a caregiver. As a caregiver for paralysis you now have to be concerned with the expenses that come with healthcare and figure out how to cover them without the time to maintain a job. This site shows you how to handle your short-term and long-term financial security.
The National Center on Caregiving (NCC) created this program to provide high-quality and affordable options for caregivers in the United States. The NCC serves as a main source of information for those giving care to their loved ones and the long-term issues they may be faced with.
This network provides assistance to those caring for loved ones with "chronic conditions, disabilities, disease, or the frailties of old age." It is a non-profit organization that gives education and resources to family caregivers free of charge.
This group helps caregivers with the most effective ways to communicate with their doctors, nurses, social workers, and other healthcare providers. Most people don't think about this element of caregiving, but communication is an essential tool to ensure everyone is on the same page and doing everything possible for the person who has been injured.
This website provides you with all of the resources you could possibly need as a caregiver. It has everything from checklists and forms to a glossary and tips for home care.
Carezone App
This mobile app manages all of a caregiver's duties, including involvement of friends and family, record keeping, and a shareable calendar for easy scheduling. It is available for Apple Watch and can be accessed on your phone or tablet.
This mobile app helps you to build a site for yourself and the one you are caring for. Your friends and family are also able to join. It keeps everyone in your network updated, coordinated with your schedule, and gives the option of posting notes of support.
Recovery coaches help you to take all of the necessary steps you need to move forward after an SCI occurs. They provide you with resources for finding a doctor, treatment center, and financial support.
Topics:
Spinal Cord Injury, Caregivers, Resources
Stay Updated on Advancements On Traumatic Brain &
Spinal Cord Injuries
About the Author
Spinal Cord Team
The authors of Spinalcord.com are made up of attorneys, those in the medical field, and survivors of spinal cord injuries or traumatic brain injuries. Learn more about our team of authors including a brief biography that explains how they impact the SCI and TBI community.
Learn More About the Author