5 Cute Wheelchair-Accessible Tiny Homes You'll Love!
Publish Date: December 04, 2020
"Tiny" and "accessible" may not necessarily go hand-in-hand, but the tiny home trend is finally crossing over into #wheelchairlife, and it's a much-needed thing. Too often, people with new and old spinal cord injuries (SCIs) find themselves without an accessible home. Depending on which state you reside, accessible housing either: exists but is in short supply, or there is simply none available at an affordable cost.
This is why so many wheelers are considering tiny living. You can buy or build a fully accessible tiny home at the fraction of the cost of a normal-sized home. From 30 square feet to 500 square feet, the typical tiny home can be made accessible to your specific needs, whether you need a removable ramp, a roll-in shower or an elevated bed that runs via a remote. They are tiny, inexpensive canvases, and they're fabulous.
We've compiled a list of some of the best tiny homes/home plans for accessibility out there. Enjoy!
1. Tiny Idahomes – RV Toy Hauler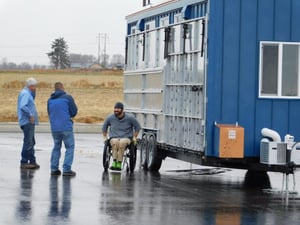 Direct from Idaho is Tiny Idahomes, a tiny house builder that typically builds able-bodied tiny homes but they were approached by Marc, a paraplegic and ATV enthusiast. He had them build him a tiny accessible house using their RV Toy hauler model, a 28-foot-long tiny home.
Marc had them add a lift bed (that runs via a remote) that rises and stays near the ceiling during the day, but is lowered at night for sleeping. His tiny home also includes a full kitchen, a shower he can easily transfer into, a toilet at his height, and a removable ramp.


2. Wheel Pad
If you are interested in a tiny home but don't need a kitchen, the Wheel Pad is an accessible tiny home option. This 200-square-foot home is built specifically for wheelchair users. It includes a multi-use living/bedroom area and a bathroom with a roll-in shower. It also has a track system for a Hoyer lift transfer, making it perfect for quadriplegics.
This tiny home was built on a trailer frame, which means you can attach this to the back of a larger home to stay close by family while still enjoying privacy. The makers of this tiny home market it for newly injured individuals who are looking for a transition type of housing after becoming injured, especially for those who cannot find accessible housing.


3. FabCab – TimberCab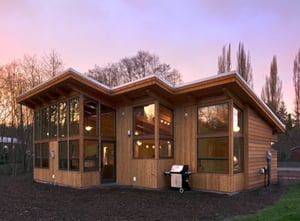 FabCab is a universal tiny home builder is based in Seattle, and every home they build is wheelchair accessible because of the universal design features added to each home. Although they make larger and custom prefab homes, their sole true tiny home is their 550-square-foot TimberCab option.
This vaulted-ceiling tiny home includes a permanent ramp, an open concept kitchen and living room, a bathroom with slider doors, and a bathroom with a roll-in shower. These homes are bright, airy, and perfect for someone looking for a more permanent space on their own land.


4. Little House on the Trailer – Home Care Cottage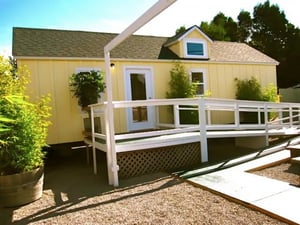 This tiny home is built by Little House on the Trailer, a tiny home builder from California. They offer several stylish tiny homes, and their wheelchair accessible tiny home is called the Home Care Cottage. This 400-square-foot model offers a ramp, a fully accessible kitchen with spaces under the stove and sink for wheelchair-users, a bedroom in the back of the home, and a wheelchair accessible bathroom with a roll-in shower.


5. MedCottage - MotherShip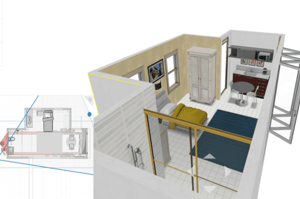 Based in Pennsylvania, MEDCottage builds a variety of accessible tiny homes. Their classic CottageClass tiny home is 300 square feet and consists of a bedroom flanked by a small kitchen and accessible bathroom. There is a lift with a track system that goes from the bed to the bathroom as well. This tiny home is great for anyone with a high-level injury that requires caregivers several times a day. The plans are available for sale on the site.
While many of the aforementioned tiny homes above are beautiful, remember that most are in a reasonable price range. Many tiny homes range from $30,000 to $80,000 dollars if they are purchased pre-built. And you always can add additional accessible features that will meet your spinal cord injury needs down the line on your own.
Topics:
Spinal Cord Injury, Accessibility & Adaptations
Stay Updated on Advancements On Traumatic Brain &
Spinal Cord Injuries
About the Author
Spinal Cord Team
The authors of Spinalcord.com are made up of attorneys, those in the medical field, and survivors of spinal cord injuries or traumatic brain injuries. Learn more about our team of authors including a brief biography that explains how they impact the SCI and TBI community.
Learn More About the Author