5 Famous People in Wheelchairs Who Will Inspire You
Publish Date: December 03, 2020
There are many famous people in wheelchairs living their lives each day with spinal cord injuries (SCIs). In fact, according to the National Spinal Cord Injury Statistical Center (NSCISC), there are estimated to be between 247,000 and 358,000 people living with SCIs in the United States at this time with an annual estimated occurrence of 17,700 new spinal cord injuries each year (not including people who die at the incident location). These numbers also don't include individuals who are in wheelchairs due to neurological health conditions.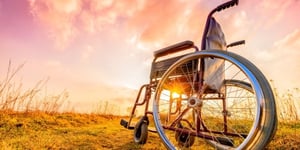 However, the truth of the matter is that no one — not even famous people such as celebrities, politicians, and other thought leaders — is "safe" from the effects of spinal cord injuries and other neurological conditions that affect the spinal cord. People from all walks of life can find themselves in a wheelchair for a multitude of reasons. However, there are several famous people with disabilities who have been able to make a significant impact in the world around them despite their injuries or health conditions that leave them in a wheelchair.
Some of these individuals include famous celebrities and famous actors in wheelchairs.
Five Famous People in Wheelchairs
1. Stephen Hawking
Arguably one of the world's greatest minds, the late physicist and author Stephen Hawking had an incredible impact on the world. Unlike some other famous people in wheelchairs, Hawking was not in one due to an SCI. He had a rare early-onset form of amyotrophic lateral sclerosis (ALS), also known as Lou Gehrig's disease, which is a neurodegenerative disease that reduces nerve and muscle function over time.
His life's work had an enormous impact on quantum theory and gravitational physics. One of his most significant discoveries, along with Sir Roger Penrose, was that Albert Einstein's general theory of relativity implied that time and space began with the Big Bang and would end in black holes. He then also discovered that black holes are not entirely black as Einstein suggested; rather, they likely have the presence of "Hawking Radiation" in black holes that allows them to evaporate and eventually disappear.
Hawking has received many medals, awards, and other forms of recognition, including the most prestigious science award known as the Fundamental Physics Prize.
2. Christopher Reeve
The late Christopher Reeve, the man known for playing the unbreakable Superman, was one of the most famous actors in wheelchairs. Reeve broke his neck in May 1995 during an equestrian competition that rendered him a quadriplegic. The accident fractured his C1-C2 cervical vertebrae and damaged his spinal cord, leaving him reliant on a respirator to breathe. After his injury, he and his wife Dana founded the Christopher Reeve Foundation (now known as the Christopher & Dana Reeve Foundation).
Reeve became the public face of spinal cord injury and a vocal activist for SCI research. He motivated neuroscientists worldwide to seek out a cure and ways to improve the quality of life for people with spinal cord injuries. The foundation funds innovative research, provides grants, and serves as an advocate for the spinal cord injury community.
3. Daryl Mitchell
One of the other famous actors in wheelchairs is Daryl Mitchell. Mitchell, who has paraplegia, was injured during a motorcycle accident in 2001 when he hit a patch of loose gravel and wiped out. However, he isn't one to let his spinal cord injury hold him down and returned to acting within a year of his injury. He has since starred in TV shows like Law & Order: Criminal Intent, Ed, NCIS: New Orleans, and Fear the Walking Dead.
Mitchell serves as an ambassador for the Christopher & Dana Reeve Foundation, using his injury to serve as a platform for minorities with spinal cord injuries. According to the National Spinal Cord Injury Statistical Center, 21.9% of spinal cord injuries have affected non-Hispanic black individuals since 2015, and 78% of these cases affect males. This is particularly significant considering that the U.S. Census Bureau reports that African-Americans represent only 13.4% of the nation's overall population.
4. Tamara Mena
One of the famous celebrities in wheelchairs is model, actress, motivational speaker, and spinal cord injury activist Tamara Mena. Mena was injured at age 19 during a freak accident in Tijuana, Mexico when the taxi that she and her boyfriend were in struck a horse that was in the middle of the road. The incident killed her boyfriend and the cab driver and rendered her a paraplegic, temporarily eliminating her ability to speak when her lungs collapsed.
As the result of her injury, Mena has dedicated her life to advocating for diversity and inclusion in the media for people with disabilities. In particular, she spreads awareness of sensitivity to wheelchair users and educates people about spinal cord injuries and is an ambassador for the Wings for Life World Run, an event that benefits Wings for Life, a nonprofit that is dedicated to spinal cord injury research and finding a cure for SCI.
5. Charles Krauthammer
The last of the famous people in wheelchairs we will mention is the late Charles Krauthammer, who died in June 2018 at age 68. He was an inspiration and a political thought leader to people around the United States and world. He was a Fox News commentator, journalist, author, and the recipient of a Pulitzer Prize.
Krauthammer sustained a traumatic spinal cord injury during a diving accident during his first year of medical school where he studied psychiatry. The accident, which severed his spinal cord, rendered him a C5-C6 quadriplegic. However, he never let his accident hold him back. During his recovery in the hospital the next year, Krauthammer continued his studies and graduated on time among the top students of his class. He fell back on his love of politics and decided to focus his career there. His long and varied career allowed him to serve as a speechwriter for Vice President Walter Mondale and become a journalist/columnist for The Washington Post.
In his book Things That Matter, Krauthammer says: "The catastrophe that awaits everyone from a single false move, wrong turn, fatal encounter -- every life has such a moment. What distinguishes us is whether and how we ever come back."
All of these famous people in wheelchairs, despite their injuries and health conditions, have dedicated their lives to making a tremendous impact in the world through discoveries and helping others. We hope that these stories help to inspire you as you live your life each day, seeing the possibilities that can await you regardless of circumstance.
To learn more about spinal cord injuries, be sure to check out our complimentary resource by clicking on the link below.
Topics:
Spinal Cord Injury, Survivor Stories & Inspiration
Stay Updated on Advancements On Traumatic Brain &
Spinal Cord Injuries
About the Author
Spinal Cord Team
The authors of Spinalcord.com are made up of attorneys, those in the medical field, and survivors of spinal cord injuries or traumatic brain injuries. Learn more about our team of authors including a brief biography that explains how they impact the SCI and TBI community.
Learn More About the Author