5 Wheelchair-Friendly Pools That Will Amaze You
Publish Date: December 08, 2020
Not too long ago, it seemed like a wheelchair-accessible pool was nearly impossible for people with spinal cord injuries (SCIs) to find. Nowadays, however, more wheelchair accessible pools can be found than ever before. Not only is the rise in accessible pools due to universal access regulations, beachfront/zero-entry pools also have taken over the pool design industry and are, by default, wheelchair-friendly. For once, we get to benefit from an architectural trend.
It really is the golden age of accessible pools — and it's only getting better. To celebrate this explosion of accessible aquatic architecture, we've chosen five accessible pools that blew us away. Why not add a few more choice locations to your bucket list?
1. Leduc Aquatic Centre Whirlpool — Alberta, Canada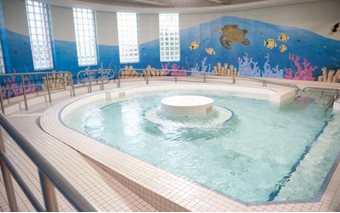 It's not often you can find a wheelchair accessible hot tub/whirlpool, which is why we had to include this universally-accessible whirlpool to our list. The Leduc Aquatic Centre in Leduc, Alberta, Canada, is a beautiful whirlpool that features a circular ramp. This allows you to gradually enter the whirlpool completely on your own, free of any electric lift, which is nice because those aren't the most reliable and help is needed to operate them.
2. Kent State University Natatorium — Ohio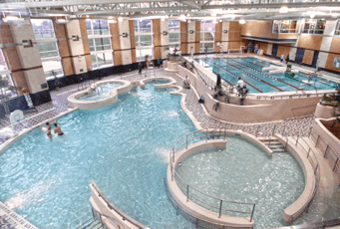 Located in Kent, Ohio, this aquatic building is part of the Kent State University Student Recreation and Wellness Center. It was built in 1999 and is one of the most beautiful universally-accessible pool designs we've seen. The center has a lap pool and a leisure pool, which are connected, and also features a beautiful circular ramp. Furthermore, the whirlpool is only a transfer to get into.
3. Radisson Blu Resort Pool — Fiji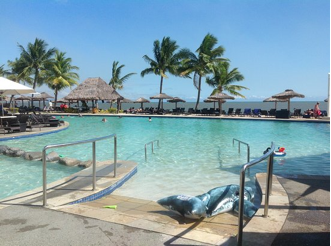 For those with more exotic tastes, the Radisson Blu Resort in Fiji has a universally-accessible pool that is located alongside the ocean — and it is quite stunning to behold. It features a long, wide ramp that leads into the pool, and it is humongous; it connects several pools that have bars and waterfalls. This watery oasis truly is something to behold.
4. Collaroy Rockpool — Australia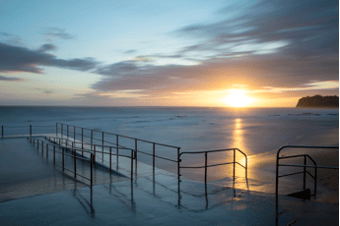 At Sargood on Collaroy, the exclusively wheelchair-accessible resort in Collaroy, Australia, there is a saltwater pool that has a beautiful ramp that almost feels like it was created naturally. You also can spend a night at the resort, which is fully accessible and rated one of the best in the world for wheelchair users. They offer everything from accessible surfing to biking to electric lifts in each room.
5. The Reserve at Paradisus Palma Real — Dominican Republic
The Reserve at Paradisus Palma Real, a brand new, all-inclusive resort is located in Punta Cana, Dominican Republic. This hotel has a circular zero-entry pool with a cobalt blue pool bottom that is stunningly unreal. It also features a center whirlpool that is completely accessible and beach chairs in the water that you can float into. While you have to get a room at this resort to check out the pool, it definitely seems to be worth it.
We love that zero-entry pools are now becoming the norm. As an honorable-mention, there's a gorgeous beachfront pool located at the Atlantis resort in the Bahamas. If you're planning to travel soon, just search "zero-entry" or "beachfront" to find more if you're traveling to a certain location. These pools are popping up all over, and we couldn't be happier!
Topics:
Spinal Cord Injury, Survivor Stories & Inspiration, Accessibility & Adaptations
Stay Updated on Advancements On Traumatic Brain &
Spinal Cord Injuries
About the Author
Spinal Cord Team
The authors of Spinalcord.com are made up of attorneys, those in the medical field, and survivors of spinal cord injuries or traumatic brain injuries. Learn more about our team of authors including a brief biography that explains how they impact the SCI and TBI community.
Learn More About the Author