Adaptive Devices to Help You Swim Again
Publish Date: December 08, 2020
After a spinal cord injury, swimming again can be scary. When you do not have the same control over your body that you used to, one of the last things you want to do is get into water. Water however has many therapeutic properties. If you can get comfortable in the water again, the benefits are worth it.

The good news - there are several swimming aids available that can help people get over their fear and enjoy swimming again. For those who want to swim without any assistance, there is a new flotation suit. For anyone who has minimal arm movement, there's a new flotation device that will enable you to move about the pool independently. Read on to learn about these products and more below.
Portable Pool
Lift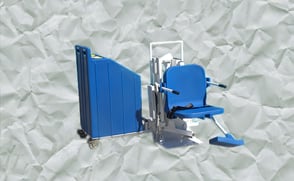 For many, getting into the pool can be difficult. A pool lift is the first step in swimming again. And pool lifts are best when they are portable, then you can bring it wherever on the pool deck it's wanted. Portable lifts might be more expensive and only usable in a pool setting, but they are worth the cost. A portable pool lift that is widely recommended is The Patriot, but do your research to find one that best suits your budget and needs. Whichever pool lift you decide to go with, just remember that you may need assistance getting into the lift chair, as they can be rigid.
Pool Pod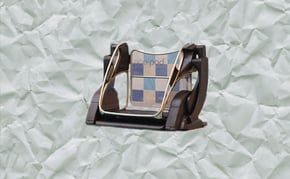 Made in the UK, a Pool Pod is a popular pool lift,, aka "pool hoist," and is the pool lift used in the Summer Paralympics. One of the most sleekest pool lists on the market, the Pool Pod offers a gentle way to get in the pool that does not require a transfer into a tiny seat. All you need to make sure of is that you are in a wheelchair that's waterproof. Most people use a pool chair or they will use their shower chair if one is not available.
Flotation Collar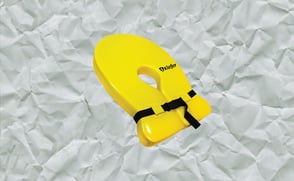 For people with a high level injury and can't use their arms, a flotation collar is a must. Many people with limited arm movement also prefer using a flotation collar when swimming as well. A flotation collar is positioned around the neck of an individual, assuring the head is always floating above the water. Not only is this a good safety aide went swimming, it can help many people relax and begin to use their arms again in the water.
Airtime Watertime Floater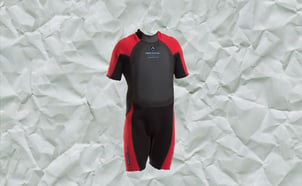 For anyone with a lower level injury and is a quadriplegic, or for anyone who is a paraplegic with limited torso movement, the Airtime Watertime Floater is one of the best products, as it can help someone independently swim again. It is a flotation suit that makes your entire body float, giving you support so you can sit/stand upright in the water. A wetsuit essentially with a built-in life jacket, this flotation suit comes in women and men's sizes.
Float Chairs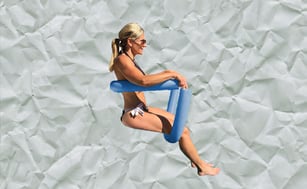 A budget-friendly option is a float chair made from flotation noodles. There are many options available online, so shop around to find one that fits your balance needs; some of the float chairs have higher backs than others. What is great as well about a float chair is that they are easy to stow away when traveling.
EdgeMate Pool Chair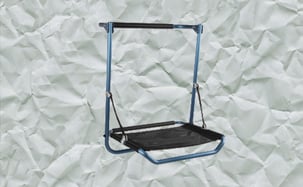 Sometimes it is hard to just hang out and splash around in the pool when you have a spinal cord injury. This is why the EdgeMate Pool Chair is a great option for people who want to be in the water independently, but have a base they can swim back and forth from. What makes this pool chair so great is that it attaches to the edge of the pool, giving you a front row seat to the action. You get the best of both worlds with this fantastic pool aid.
Pool Candy Splash Runner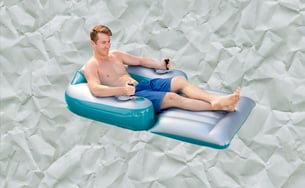 If you want to cruise around the water without any assistance and don't care if you are actually in water, the PoolCandy Splash Runner Motorized Pool Lounger will put a smile on your face. This floatie has built-in motors that help you move effortlessly across the water via the joysticks built into the flotation device.

WaveJet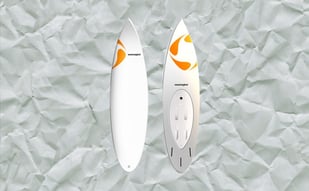 For anyone interested in getting on a surfboard again but can't use their legs to paddle, the WaveJet propulsion surfboard is a great way to get in the water and belly-board. Many low level quadriplegics and paraplegics have fallen in love with this product, as it allows them to skim over the water on a surfboard just like they were able to before. This product does run expensive ($4,000) but for anyone who was a serious surfer before their injury and doesn't mind getting on their belly to surf, this is a great product.

Get in the water anyway you can. Swimming no matter your ability is a great workout. Cardio on top of cardio, as well is a great way to increase your strength, swimming can't be beat.
Stay Updated on Advancements On Traumatic Brain &
Spinal Cord Injuries
About the Author
Spinal Cord Team
The authors of Spinalcord.com are made up of attorneys, those in the medical field, and survivors of spinal cord injuries or traumatic brain injuries. Learn more about our team of authors including a brief biography that explains how they impact the SCI and TBI community.
Learn More About the Author