The Best Adapted Video Game Controllers
Publish Date: December 04, 2020
The time is now for adaptive technology, and when it comes to adapted video game controllers they're better than they've ever been. While it's not always an inexpensive purchase, the hours of entertainment you can get from controllers you can use, especially when your hands don't work the way they used to, is worth every penny.
And the market is full of great options, from completely customized controllers made just for your mobility level to stock adapted controllers with a lighter price tag. From console gaming to PC gaming, it's all possible no matter your ability.
Evil Controllers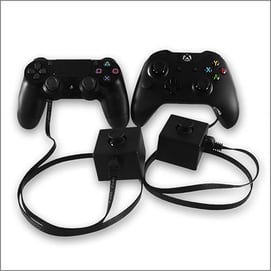 If you're looking for a completely customized video game controller, Evil Controllers is one of the best options. They will custom modify Xbox One and PS4 controllers to suit your needs over the phone or via e-mail with one of their customer service representatives. They're known for excellent customer service and they offer reasonable prices with nothing over $200. And they can add details like more sensitive buttons, changing the location of buttons or increasing the size of buttons.
QuadStick

Game

controller
If you have no arm movement and play with your mouth, one of the best video game controllers for mouth-play is the QuadStick Game controller. This impressive piece of technology is compatible with PS3, PS4 and the Nintendo Switch. You must mount it, but mounting systems are available through them as well. This QuadStick costs $399.
Xbox Adaptive Controller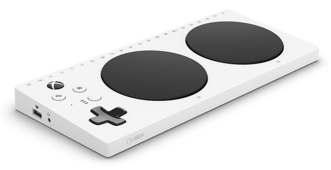 Scheduled to be available to the public later this year, Microsoft is the first large scale console maker to sell their own adaptive controllers. It will be around $100 and will be compatible with games on the Xbox one and Windows 10. Also, it has two large programmable buttons, 19 inputs for other buttons, switches and levers from outside adaptive video game control manufacturers.
RJ

Cooper Game Box Controllers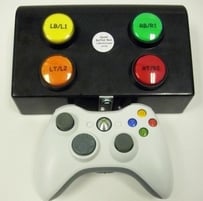 RJ Cooper Game Box Controllers are especially large, making them ideal for kids with disabilities, and they create adaptations for most models of video game systems including the Xbox, Xbox 360 and PlayStation 3. Also many of their units come in one compact box and with a non-skid bottom, making them perfect for quads and kids alike. Many people find that holding the controller is difficult, which is why we like this feature. Their prices vary, but you can get a complete controller for under $200.
Axis Controllers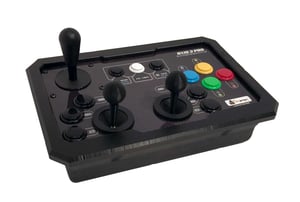 Created by the Blue Tip Company, they are the developers of the Axis Controllers, an adapted line of gaming controllers. They build fully autonomous systems that do not plug into the original controller, and they create controllers that are compatible with Xbox 360, Xbox One, PlayStation 3 and PlayStation 4. Their controllers range from $300 to $550 and are great for people with wrist function, but limited finger movement.
Topics:
Advice & Tips, Accessibility & Adaptations
Stay Updated on Advancements On Traumatic Brain &
Spinal Cord Injuries
About the Author
Spinal Cord Team
The authors of Spinalcord.com are made up of attorneys, those in the medical field, and survivors of spinal cord injuries or traumatic brain injuries. Learn more about our team of authors including a brief biography that explains how they impact the SCI and TBI community.
Learn More About the Author