First Paralyzed Man Treated With Stem Cells Has Regained Movement
Publish Date: December 04, 2020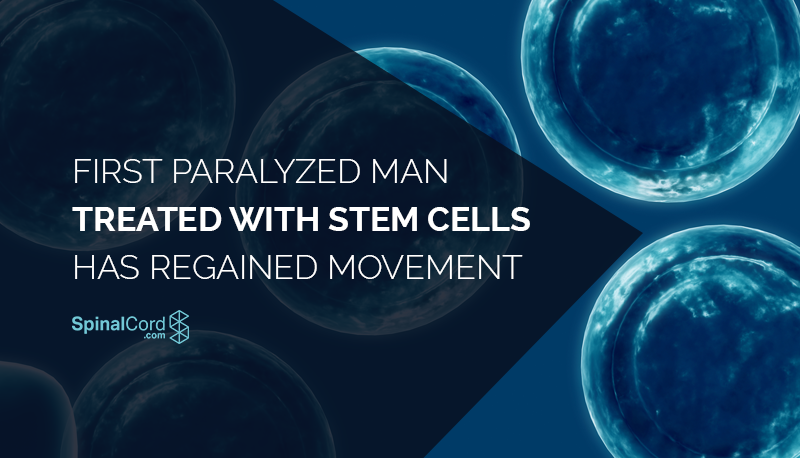 Scientists have begun using stem cell injections to treat those who have been paralyzed in accidents resulting in a spinal cord injury. In March 2016, Kristopher Boesen (Kris) was in a car accident that paralyzed him from the neck down. After the accident, Kris had difficulty breathing on his own due to his injuries and was told he may never be able to regain control of his limbs again.
Kris could undergo the standard surgery given to patients suffering from a spinal cord injury that would stabilize the spine, but it would most likely do little to nothing for his motor and sensory functions. Kris did not choose to do this surgery. Instead, he discovered a clinical trial being done involving treatment with stem cells which was looking to enroll patients just like him and decided to take the chance.
The Trial
The clinical trial was being led by Dr. Edward D. Wirth III, chief medical director of Asterias Biotherapeutics. It involves injections of "AST-OPC1- an agent consisting of oligodendrocyte progenitor cells (OPCs) that derive from embryonic stem cells. OPCs are the myelin-forming cells of the brain and spinal cord that help nerve cells to function."
This treatment is supposed to reduce the size of the injury cavity and replace the myelin coating of the nerve cells, stimulate nerve cell growth, and produce blood vessels that will bring oxygen and healing to the injured site. In order to participate in this study, Kris was required to be able to breathe on his own. With the help and care of his respiratory team, he was breathing without a ventilator and approved for the trial.
The Study
The National Spinal Cord Injury Statistical Center states that "each year there are approximately 17,000 new cases of spinal cord injury in the United States." This study is just one example of how regenerative medicine is bringing hope to those who had thought they would never be able to move their limbs again. The procedure that Kris took part in was a part of a phase 1/2a clinical trial evaluating the safety of the doses being given to the patients. The AST-OPC1 cells being injected are developed by the Asterias Biotherapeutics based in Fremont, CA. These cells come from the embryonic stem cells that are found in the brain and the spinal cord.
The clinical trial is now at the 10 million cell level, which is the amount that was found to be most effective in the pre-clinical studies. In order to be involved in the study, "enrollees must be between 18 and 69, and their condition must be stable enough to receive an injection of AST-OPC1 between the 14th and 30th days following their injury. Keck Medical Center is one of the 6 sites in the United States that is authorized to enroll subjects and administer the clinical trial dosage."
The Results
After 2 weeks, Kris was able to achieve some minor motion in his arms and hands. It took about 3 months, but he was eventually able to write his own name with pen and paper and accomplish a good deal of other normal daily tasks. Kris went from having complete immobility to being able to function on his own again.
Topics:
Survivor Stories & Inspiration, Research
Stay Updated on Advancements On Traumatic Brain &
Spinal Cord Injuries
About the Author
Spinal Cord Team
The authors of Spinalcord.com are made up of attorneys, those in the medical field, and survivors of spinal cord injuries or traumatic brain injuries. Learn more about our team of authors including a brief biography that explains how they impact the SCI and TBI community.
Learn More About the Author