Getting Your Accessible Vehicle Ready for Frigid Temps
Publish Date: December 09, 2020
With winter weather already showing its ugly face in many states across the country, the time is now to get your accessible vehicle ready to handle the cold temperatures. There are winter preparation tips for standard vehicles, and then there are a whole host of things drivers with a spinal cord injury must think of to stay safe in cold temperatures if their vehicle stops working.
From the standard advice all drivers receive, such as checking your tire pressure, to more specific advice regarding specialized adaptive equipment, read on for our tips to get your accessible vehicle ready for winter.
Get an Emergency Kit
We've all heard of a winter emergency kit for your vehicle that you can use if your car breaks down. Typically, these kits are filled with items to keep you warm such as: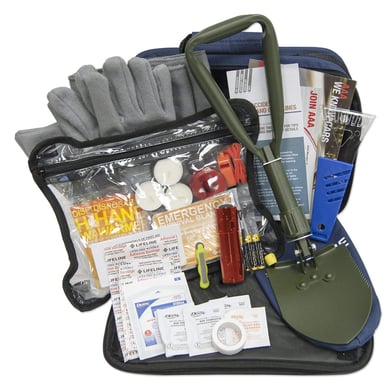 extra gloves,
boots,
blankets,
as well as tools such as:
a flashlight,
extra batteries,
a small shovel,
tire chains,
flares,
bottles of water,
and high energy foods.
But if you have a spinal cord injury, you should also add medical items you may need such as extra catheters, lube, another bottle or drainage bag and any medication you may need if you have to wait for several hours. Also, if you are hypoglycemic, which many people with spinal cord injuries are, make sure you have food with sugar in the car as well. Lastly, make sure you are able to reach the kit as well.
Portable Phone Charger
While most people have a phone charger that for their cars that they can plug into the cigarette lighter, you should also have a portable phone charger you can use in case your vehicle breaks down and you cannot use the lighter port. These chargers don't require an electrical source to work, as they operate on battery power. You can buy these on Amazon for under $20. Also, if your phone has a removable battery, make sure to buy an extra battery for it. You should also be able to find batteries for most phones on Amazon.
Top Off Your Fluids
While this is a more mainstream tip, it is vital that you check your car's fluids at the beginning of every winter season. This includes your anti-freeze, windshield wiper fluid and your oil levels. All of these are critical to keeping your vehicle in tiptop shape during the cold months, ensuring your heat works and that you can see in case the weather turns. Make sure to have your wipers checked too.
Get Ramp Cleaned, Lubed
If you have a van with the ramp or a lift, getting this serviced at beginning of every winter is something that many accessible vehicle shops offer, and at a reasonable price as well. They will check your ramp or lift thoroughly, removing any debris that may prevent it from working once the snow comes. They will also add lube to the parts so that it works fluidly and is not stopped up by any salt.
Tune-Up Hand Controls
No matter the kind of hand controls you use, you should also have your accessible vehicle shop look them over once a year to make sure everything is an operational order and that nothing is on the verge of breaking. You do not want your hand controls to break in dangerously cold temperatures, so it is always a good time to get them checked at beginning of every winter compared to any other time of year.
Check Tires & Pressure
If you can't afford to get winter tires on your vehicle, the next best thing is to have the pressure in your tires checked to make sure they are exactly where it needs to be to make sure your ride is as safe as possible in slippery weather. If you can swing it, however, check into getting winter tires, especially if you have a van as the extra weight on the road can cause you to slip.
There you have it; solid winterization tips to take to heart. Remember, you can always ask employees at gas stations to help you check your levels if you cannot do it on your own. And a bonus tip: Add an extra wax coating to your vehicle at beginning of winter to protect it from the salt and dirt on the road.
Topics:
Advice & Tips, Accessibility & Adaptations
Stay Updated on Advancements On Traumatic Brain &
Spinal Cord Injuries
About the Author
Spinal Cord Team
The authors of Spinalcord.com are made up of attorneys, those in the medical field, and survivors of spinal cord injuries or traumatic brain injuries. Learn more about our team of authors including a brief biography that explains how they impact the SCI and TBI community.
Learn More About the Author