Groundbreaking Reusable Cath System Coming: Aurie
Publish Date: October 25, 2021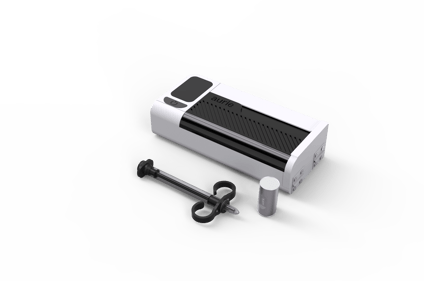 Out of all the medical supplies you use, which supplies to you feel could be completely overhauled? For investors in the medical supply field, many feel catheters are long overdue for a re-do due to their cost and waste and impact to daily life. For those who catheterize and use intermittent catheters, many use over 2,000 catheters per year, and likely more.
Year after year this medical waste from millions of people around the globe using catheters on a daily basis severely contributes to pollution and landfill overcrowding. Using 4+ more catheters per day is also expensive, even for basic catheters. Infections are a common problem, and while premium no-touch catheters help reduce infection rates, they're too expensive for many to afford. And carrying enough catheters at all times can be a real headache and limitation on quality of life. These reasons and more are exactly why Aurie, one of the most groundbreaking catheter designs to enter the industry, was created.
The system was created by Aurie CEO Souvik Paul, who has a family member who sustained a spinal cord injury. His goal is to co-create products with people living with spinal cord injuries and other disabilities to help improve health and quality of life. Enter the creation of Aurie. "To use design and authentic lived experience to create products that people with disabilities will choose to enhance their live" is the company's mission.
Despite the Aurie catheter system being at least 2 years away, it'll be here before you know it. To be prepared, you can learn more about the Aurie Reusable Catheter System, as well as the investors behind this exciting new direction for catheters and those who use them, by continuing to read below.
The Beginnings
The Aurie Reusable Catheter System was inspired by a personal interaction. In this case it was Souvik's sister-in-law, Carina. After her injury, she suffered from recurrent UTI's that were affecting her quality of life. After doing some hard digging, looking at the medical supplies used in the industry and how they can be improved, Souvik came up the groundbreaking idea of a reusable catheter system.
Catheters are a medical tool that hasn't been completely refashioned since its original invention. Desperately in need of being retooled, Souvik has captured the attention of several investors to help him bring Aurie to fruition. Still in the development phase, Paul is close to securing enough money ($350,000 away) to begin the next step of their development. Their goal is to bring Aurie to the market by 2023 (pending FDA approval).
Souvik says that one of the company's goals is to find accredited individuals living with spinal cord injuries and other folks closely tied to the community, such as doctors and lawyers, to help raise the rest of the funds needed. "Our goal is to build a truly inclusive company – both by hiring and by attracting investment from individuals living with disabilities and part of the disability community. This will help us bring a product that truly meets people's needs to market."
As for why a reusable catheter system hasn't been created yet? It's simple – money. "If you look at the well-known players, they all have incredible supply chains, where the increase in cost of a raw material by 1 cent could translate into millions of dollars of additional cost. Because their supply chains are so efficient and specialized, it can be hard to completely change the way you do business - like making safer, reusable catheters."
How Aurie Works
The Aurie Reusable Catheter System will have a system for both men and for women. The catheter itself is for those who intermittent catheterize throughout the day, whether through their urethra or a stoma, and will be the first reusable catheter system ever created. To date, all intermittent catheters are single use-only. This system will undoubtedly transform the market, showing that a safe cleaning system for catheter reuse can work.
Each Aurie catheter has a no-touch design and can be used up to 100 times and is stored in a portable carrying case that automatically cleans, disinfects, and lubricates catheters between uses with tap water and pre-packaged supplies so that reuse can become safe! The system even tracks each use of the catheter so you know when it's time to get a new one. And even better, the carrying case is battery-powered and rechargeable.
Because the Aurie no-touch catheters will be safely reusable when the system is fully developed, the whole system can be sold at a much lower price than comparable no-touch catheters. The Aurie team has even used early test data for the system to secure the FDA's Safer Technology designation.
Additionally, for anyone with anxiety about not having enough catheters or not being able to afford the amount you need, Aurie is a freeing game changer. The reusable system Aurie gives a peace of mind to those who want to be spontaneous in their daily lives or lessen their carbon footprint. If someone switches completely over to the Aurie system, they can go from using 2,400 catheters each year to just 24 catheters.
If you're interested in the development of Aurie and want to be kept up-to-date on when it will be available, you can sign up for updates here: https://livewithaurie.com. The company also wants to be as inclusive as possible, and that means hiring disabilities who live with spinal cord injuries and can contribute their real-life stories to the product development. If you want to send Aurie your resume or be involved/help out in anyway as a collaborator or a potential investor, you can contact Souvik via email at souvik@livewithaurie.com.
- Learn more: https://livewithaurie.com/
Topics:
Spinal Cord Injuries, Supplies, catheters, The Beginnings, How Aurie Works, medical waste, Aurie catheter system, CEO Souvik Paul, intermittent catheters, Souvik Paul, Aurie Reusable Catheter System, authentic lived experience, carbon footprint
Stay Updated on Advancements On Traumatic Brain &
Spinal Cord Injuries
About the Author
Spinal Cord Team
The authors of Spinalcord.com are made up of attorneys, those in the medical field, and survivors of spinal cord injuries or traumatic brain injuries. Learn more about our team of authors including a brief biography that explains how they impact the SCI and TBI community.
Learn More About the Author