Help Hope Live
One of the questions I hear from individuals and family members who reach out for help is, "How are we going to pay for everything?" Catastrophic injuries also result in catastrophic costs, which no family is fully prepared for, and as everyone in this community knows, those costs are not limited to hospital and medical expenses. Transportation, housing, travel, and other expenses we once took for granted become complicated and costly. Then, when you start thinking about medications, co-pays, caregivers, wheelchairs, rehabilitation, therapy, and more, the financial burden can become overwhelming.
There are a few small grants available to assist with specific needs, and we encourage everyone to apply for those which they may qualify for. Of course, private- or government-sponsored insurance also helps with some medical costs, but there is still a huge gap.
Crowdfunding
One way to help fill that gap is through fundraising or crowdfunding. Where should a family turn first?
GoFundMe is one of the most popular ways for individuals to raise money online, and everyone has heard a story or two about enormous sums of money being raised quickly after a newsworthy accident. The process for starting a campaign is incredibly simple, but is it the BEST solution?
A few years ago, our team did some research and interviews, which led us to share the organization Help Hope Live with our audience. Recently, we thought it was time to dive a little deeper, and our findings reaffirmed that this nonprofit is not just a platform for raising money but rather a comprehensive community fundraising solution for individuals and families facing a medical crisis. Below, I dive into why Help Hope Live is one of the answers to the original question, "How am I going to pay for everything?"
Help Hope Live is a national nonprofit with a multi-decade history of fundraising excellence. For the past 16 consecutive years, the nonprofit has earned the highest-possible four-star rating from the independent charity watchdog Charity Navigator.
Help That Goes Beyond a Webpage
We believe it is the execution of a fundraising campaign that makes the biggest difference in raising $500 from a few friends or $250,000 from friends, family, coworkers, former classmates, neighbors, and even strangers. When you start a campaign with Help Hope Live, the nonprofit pairs your family up with a supportive Client Services Coordinator who can provide personalized, one-on-one fundraising support to you throughout the lifetime of your fundraising campaign—an invaluable and unique source of support.
This support may include assistance in determining which types of in-person or online fundraisers to hold to best engage your community, optimizing your Help Hope Live Campaign Page, writing and distributing press releases to share your fundraising need, social media support, and more. You will receive help telling your story through not just an online donation page but also flyers and other personalized fundraising materials—and even a video appeal like this one.
By helping to frame and distribute your story, Help Hope Live gives your fundraising campaign the best opportunity to be successful. For complete donor confidence, Help Hope Live also verifies every single fundraising client's medical and financial need directly with a medical provider before paying a single expense.
Nonprofit Status
Another critical advantage that your campaign through Help Hope Live has is the organization's nonprofit status. Because all donations are made to Help Hope Live in your honor, they are tax-deductible for your supporters. With this nonprofit status, your campaign is also eligible for foundation grants, and friends and family have the option to approach employers for matching donations to Help Hope Live.
When you fundraise with a for-profit platform such as GoFundMe, if fundraisers go as planned or exceed expectations, there can be unplanned and certainly unexpected consequences related to taxes and access to services provided by the government, including Medicaid and other income/asset-based assistance programs. Help Hope Live manages all funds raised and pays medical and related bills directly to providers. As such, the IRS doesn't deem donations to Help Hope Live in honor of a client private gifts. This makes it unlikely that the funds that you raise through a Help Hope Live campaign will ever be treated as taxable income/assets or jeopardize your access to state-based assistance programs. However, you should still check with your state Medicaid office to be sure.
There are a couple of things to consider before opening a Help Hope Live campaign. First, you need to know that Help Hope Live has guidelines that it needs to follow to maintain its 501(c)(3) nonprofit status. While the nonprofit makes every effort to honor each donor's intent when they give, Help Hope Live has full discretion over what funds raised can be used to pay for—for example, a spouse who has become the primary caretaker is not entitled to use funds raised to buy a new sports car.
Help Hope Live does support paying for or, in some cases, reimbursing a vast range of qualified out-of-pocket medical and related expenses that impact mobility, wellness, independence, emergency needs, and quality of life. Funds raised can help offset expenses ranging from hourly physical therapy rates to accessible vans to care-giving to medications to co-pays to cutting-edge treatments.
The Cost
A second important thing to note is that the nonprofit takes a 5% fee on all donations to sustain the organization. Additional third-party transaction fees on all online donations are 2.65% which can be avoided when donations are sent via a check and the mail. This is an excellent option to keep fees down for larger donations and many banking apps allow users to make payments via check where the bank will actually mail the check at no cost. Beyond these fees on the donations, there is no cost for any services to the client themselves.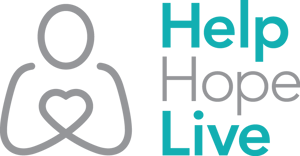 After I spoke with the team at Help Hope Live, they provided some brochures which you will find linked below. Along with these additional details, they have provided specific examples of eligible expenses. If you would like to start a fundraising campaign with Help Hope Live or receive more information from the nonprofit, fill out an application at any time: https://helphopelive.org/get-started/
If you have questions, whether about fundraising or anything else, please reach out to me personally at 877-336-7192 and I will be happy to speak with you or schedule a consultation.
Topics:
Help Hope Live, Non-Profit Organization, Charity, Charity Organization
Stay Updated on Advancements On Traumatic Brain &
Spinal Cord Injuries
About the Author
Vincent Dolan
As the Director of Public Affairs at SpinalCord.com Vincent has had the opportunity to speak with thousands of individuals (and families) during every step of the recovery process. Vincent has combined his legal and marketing expertise to create the single largest resource for those impacted by a spinal cord or other catastrophic injury. While gathering and sharing these resources Vincent also spends time answering the SpinalCord.com hotline which allows him to better understand what families are going through. Vincent is actively involved in supporting various non profits within the SCI community, and is always open to helping in whatever way he can. Vincent also works with our sponsors Swope, Rodante P.A. to ensure families have every opportunity to obtain the resources which improve the quality of life for individuals after a spinal cord injury.
See More Posts