How to Hire an Amazing Team of Caregivers After an SCI
Publish Date: December 10, 2020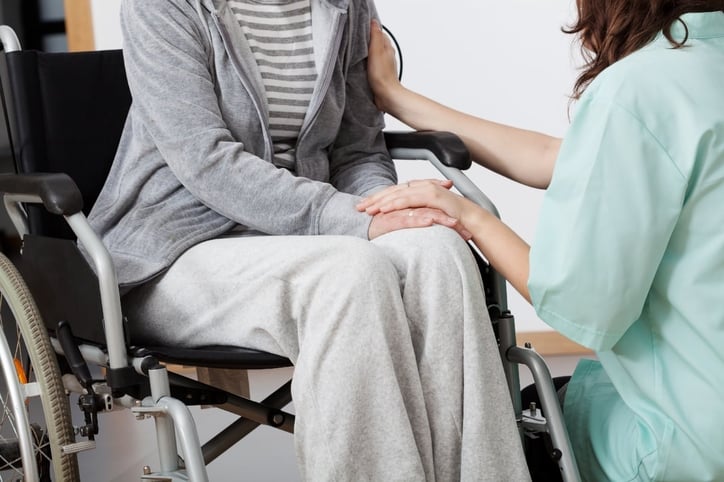 After a spinal cord injury (SCI), one of the hardest things is getting used to needing help. If you have an injury that requires you to need daily caregivers 24/7, this is especially difficult. Not only do you need help with additional things, you need someone in your home day and night. You essentially have become the boss of a new part-time job.
The only difference between any other job you may have been the boss of and this, is that this job directly influences your daily life and personal affairs. If you do not staff it correctly, your basic needs will not be met. But maybe you aren't handling the staffing yourself. Many choose to have their home health care agency staff them so they don't have to worry.
If this is you, some of the advice below may not pertain to you, but there are still parts you should take to heart. To everyone else, please enjoy this advice, and good luck creating a team of caregivers that you love and can count on!
Only Hire Non-Family Members/Friends
One of the most important things to remember is to never hire friends or family members as a personal care assistant (PCA). While many do because they oftentimes truly want to help, over the long-term this can lead to a complicated relationship due to caregiver burnout. Instead, try to hire people you do not know but have found through a regimented interview process, which we will explain below.
Post Your Ad on Student Job Boards
Many people look for their PCAs on various job sites and boards. While many use Craigslist, Indeed.com and Facebook groups to find PCAs, don't forget to post your job ad on college and university job boards. Every college in your area, from universities to community colleges, have online job boards from employers they respect. You can contact the people who run these job boards and ask if you can post your job ad. You may find high quality students who are interested in the medical field this way.
Interview with Pre-Set Questions
When you find a candidate you want to interview, conduct the interview in a public space like a coffee shop or the lobby (if you live in an apartment building), and bring a list of prepared questions. Before the interview, create a list of questions that are important to you. Questions like, "How did you become a PCA?" "What is your availability like?" "Have you ever worked with someone with a spinal cord injury before?" are just some of the questions to consider asking.
Look for Experience
One of the biggest qualities to look for when putting together a team of spinal cord injury caregivers is experience. Professionalism and reliability are almost as important, but experience ensures that they will be able to handle all of the duties of the job, including bowel and bladder care, and the mental anxieties many of us experience. Experience is critical — don't overlook it.
Kindness is Key
It's always good to look for people that are genuinely kind and good souls. This is of course always something to look for in any human being, but especially when you are searching for a caregiver. If you can sense they genuinely care, it is typically worth giving them a shot.
Every Job Deserves a Good Perk
Just like any good job, your PCA job should offer a nice perk once in awhile. This is a great way to maintain employee retention especially after you've secured a team of PCAs you love. A nice way to let them know that you care is by buying a food or beverage item they love when they're working, whether it's coffee and doughnuts or a pizza. Think about perks you would enjoy at a job you were at and try to do it. It really helps!
Also, be strong when you find yourself in the position of needing to let go a PCA. You'll never be able to amass the rock star team you want if you leave any duds around. Be strong and say goodbye.
Be sure to connect with other SCI survivors via the SpinalCord.com online community to share experiences and insights about hiring and working with caregivers after spinal cord injuries.
How do you hire great PCAs & fire bad PCAs?
Topics:
Spinal Cord Injury, Caregivers, Recovery & Rehabilitation
Stay Updated on Advancements On Traumatic Brain &
Spinal Cord Injuries
About the Author
Spinal Cord Team
The authors of Spinalcord.com are made up of attorneys, those in the medical field, and survivors of spinal cord injuries or traumatic brain injuries. Learn more about our team of authors including a brief biography that explains how they impact the SCI and TBI community.
Learn More About the Author