Mobility Assistance Dogs for Those Using a Wheelchair
Publish Date: December 07, 2020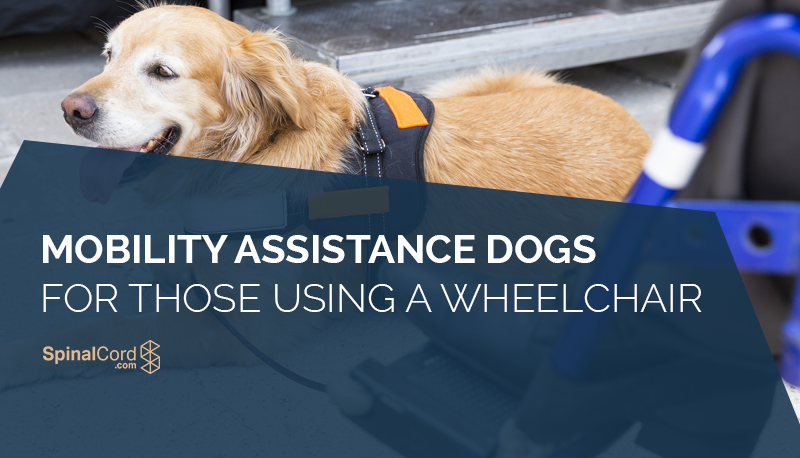 After a spinal cord injury, patients often wind up having to reassess many aspects of their lives. Tasks that once seemed simple may become infinitely more challenging as a result of your condition, and new approaches need to be considered to help you readjust to life after the accident. Modern technology has been one of the most instrumental in helping individuals overcome paralysis to live more ordinary lives, from the innovative use of virtual reality to a robotic exoskeleton.
However, one need not be able to afford cutting-edge technology or be part of a new experimental approach to find an effective way to overcome the effects of a spinal cord injury. In fact, one of the most popular options is to bring a mobility assistance dog into your life. These animals can often be an integral part of spinal cord injury survival. But before you make any decisions whether this route is right for you, let's delve into the topic in a bit more detail.
The Role They Play
The term "service dogs" gets thrown around quite a bit these days, but mobility assistance dogs are really a much more specific subset of this concept. Thanks to training specifically designed to assist disabled or physically limited human partners, these animals are capable of completing a wide range of simple tasks that those suffering from spinal cord injuries may otherwise struggle with. These include hitting buttons on automatic doors, bringing items to your hands or retrieving something you may have dropped but may extend to more elaborate tasks as well, depending on the level of training involved.
Some dogs can push a wheelchair up a ramp if necessary, and they can even be trained to perform a wide variety of other tasks like turning lights on and off or opening and closing doors, especially when your home has been retrofitted to facilitate a mobility assistance dog. Frequent play, verbal encouragement and rewards are a regular part of keeping a mobility assistance dog performing at the top of its game, and a real partnership often grows between the dog and its owner, one that often results in a positive relationship for both involved. With true dedication, there's no telling what an owner and his or her mobility assistance dog may be able to accomplish.
The Benefits They Bring
While the range of tasks that a mobility assistance dog can perform is truly impressive, the benefits of bringing such an animal into your life is far more extensive than simply this description allows. Sure, their ability to carry items, assist with undressing and bring other people to help is an inspiring example of the bond that forms between assistance dogs and their human counterparts. However, their appeal runs far deeper than simply being able to help out with menial, everyday tasks.
Because dogs by nature provide unconditional love, having a service dog in your life adds a sense of emotional and spiritual support that you can't really find anywhere else. The fulfillment you'll get from having an animal that is so devoted to making your life easier pales in comparison to the way you'll feel when you realize that you have discovered not only a helper but a friend, someone to spend your time with whom you can rely on implicitly. So many people -- with conditions ranging from spinal cord and brain injuries to muscular dystrophy, arthritis and cerebral palsy -- have found that a mobility assistance dog is an invaluable boost to their mobility as well as their happiness in general. In all likelihood, you'll see similar results.
Where To Find Them
So, you've reviewed the details and the benefits of having a mobility assistance dog in your corner and are entertaining the possibility. But how do you even begin and where could you possibly find such a dog in your area? Although you might assume that these programs are limited strictly to major metropolitan areas, they have spread by leaps and bounds in recent years.
Thankfully, nowadays countless organizations -- such as Assistance Dogs International -- make it easy for you to find resources in your local area to bring an animal of your very own into the fold. With such resources literally at your fingertips, you'll be able to find a nearby program online in no time, and you'll be that much closer to bringing a mobility assistance dog into your life and experiencing firsthand all the ways in which one of these animals can make your life so much simpler and more accessible.
Another Option
Treatment for a spinal cord injury is a difficult path fraught with emotional difficulties, and a mobility assistance dog can often lend a paw in the very best of ways. More than just another member of your support team, these lovable pups -- specially trained to provide relief to people with your condition -- bring a sense of endless compassion, companionship and devotion that you'd be hard-pressed to find anywhere else.
Of course, perhaps a mobility assistance dog simply isn't an option you're willing to entertain, for whatever reason. Yet, before you write the possibility off, we hope the above points have at least helped you realize the inherent value these animals bring to the community of spinal cord injury survivors who rely on them to assist in everyday tasks and assuage the pain of adjusting to a new way of life. Dogs may routinely be referred to as "man's best friend," but in the case of mobility assistance dogs, it's never been a more accurate description.
Topics:
Injury Support & Groups, Recovery & Rehabilitation
Stay Updated on Advancements On Traumatic Brain &
Spinal Cord Injuries
About the Author
Spinal Cord Team
The authors of Spinalcord.com are made up of attorneys, those in the medical field, and survivors of spinal cord injuries or traumatic brain injuries. Learn more about our team of authors including a brief biography that explains how they impact the SCI and TBI community.
Learn More About the Author