The Good, the Bad and the Ugly of Beach Wheelchairs
Publish Date: December 07, 2020
What makes a beach wheelchair? Beach wheelchairs first became a reality over 25 years ago. After WheelEEZ invented their now world-famous hard plastic inflated tires, several beach wheelchair makers have come to the surface – all hoping to become the go-to beach wheelchair maker for wheelchair users.
The only problem is that there are now dozens of beach wheelchairs on the market. It can be overwhelming to decide which chair to buy. Many of them look fantastic, but are all of them equal? That is a definite no, but it doesn't mean there aren't still a handful that are worth looking at.
When picking a beach wheelchair first decide what you need it for. Do you just want to soak in the sun rays or do you want to go swimming? Different activities call for different wheelchairs in the beach wheelchair world. See what we mean below.
The Good
Beach Bomber Wheelchair

From Box Wheelchairs, a cutting-edge wheelchair company from California, the Beach Bomber Wheelchair is a beach wheelchair that enables manual wheelchair-users to push themselves independently through the sand. This beach wheelchair also has the capability of going into the surf, but only minimally. To traverse the beach, it has 5" wide back tires and large inflatable front wheels to get through most beach sand. The Beach Bomber costs around $4,500.
The Hippocampe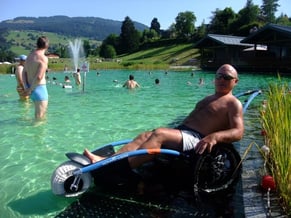 From France, the Hippocampe sits low to the ground and can be self-propelled by the person sitting in it. This helps to avoid beach wheelchairs that only can be pushed by an able-bodied assistant. The Hippocampe also has the ability to go into the water and float, which is spectacular for swimmers. This wheelchair does have two drawbacks: 1) It doesn't do well in deep sand and 2) It is tricky to transfer out of it since it is so low to the ground, so you may need assistance to get out of it. Price is under $4,000.
Sand Rider Offroad Beach Wheelchair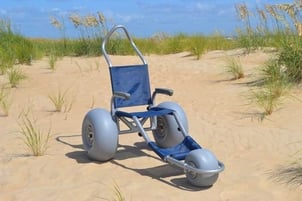 Similar to the Hippocampe, the Sand Rider Offroad Beach Wheelchair is different in that it can be completely customized in a variety of fun colors and has bigger oversized back wheels. It also is able to go in the water. It's made by Virginia Beach Products in Virginia Beach, Virginia, and it uses the beach wheelchair wheels from WheelEEZ. Financing is available for anyone who needs a beach wheelchair but cannot afford it as well; a rarity. The Sand Rider costs approx. $2,300.
cadWeazle
A high-power beach/off-road mini-ATV style wheelchair made in Germany, the cadWeazle runs completely from batteries, making it very eco-friendly for such power. It has an optional solar panel roof and balloon wheels. This chair does sit higher from ground, making it harder to relax at eye level with other beachgoers but for those that want to really zoom and explore the sand/beach (not the water), it's a great option. The price for this wheelchair is around $14,000.
Colours Razorblade All-Terrain Wheelchair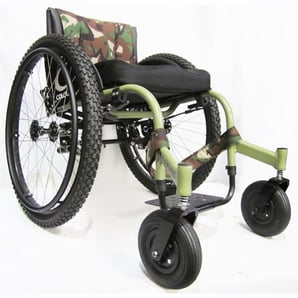 Made by Colours Wheelchairs, the Razorblade is their beach wheelchair option. It is a manual wheelchair with wide wheels and large 8" front caster wheels that can be pushed through the sand. This is a great chair because it can be taken off the beach as well; an interchangeable wheelchair for your full day's activities. Price is $2,400.
The Bad
Generic All-Terrain Wheelchair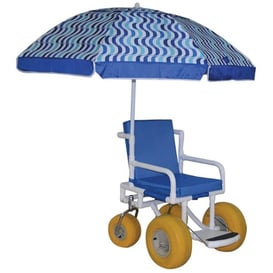 If you have a high-level spinal cord injury and cannot use your arms, this generic All-Terrain Wheelchair is an option to consider for the beach. For anyone who can use their arms, this is not a good beach wheelchair experience. As you can see, it is intended for the user to be pushed from behind, making you completely dependent on someone to move anywhere. Price is only around $1,000, though some sites sell it for less than that.
The Ugly
SandRoller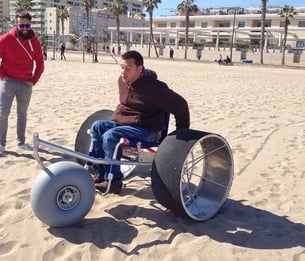 The SandRoller is a manual beach wheelchair with the largest wheels ever spotted on a wheelchair. While its wheels are so large that it makes it highly impractical, it is something someone could enjoy on a private beach. It was created two years ago, but it did not get its Kickstarter funding and does not appear to be available for purchase. The large back wheels measure a foot wide and the front wheels measure 6 inches wide. It can be taken into shallow water only. Price unknown.
Topics:
Sports & Activities, Accessibility & Adaptations
Stay Updated on Advancements On Traumatic Brain &
Spinal Cord Injuries
About the Author
Spinal Cord Team
The authors of Spinalcord.com are made up of attorneys, those in the medical field, and survivors of spinal cord injuries or traumatic brain injuries. Learn more about our team of authors including a brief biography that explains how they impact the SCI and TBI community.
Learn More About the Author