10 Ways to Walk Your Dog with Limited Hand Dexterity
Publish Date: December 08, 2020
Walking your dog is one of the greatest joys in life, but after a spinal cord injury, it can be difficult for many to take their dog for a walk. It is not impossible however to overcome whatever mobility challenges you may have. More than ever before there are products available that will get you walking your dog again. Read on to discover these below.
10) Mighty Paw Rope Dog Leash
A 6ft rope dog leash with a built-in carabiner and an extra-large handle, the Mighty Paw Rope Dog Leash works great for quadriplegics with limited hand dexterity. Many are able to use the carabiner by hitting it against their dog's collar to attach it. Also, using a dog harness vs. a collar makes attaching the carabiner easier. The large handle can then be twisted around the wrist, arm, or hand to hold it securely. Learn more
9) Partner Link Wheelchair Leash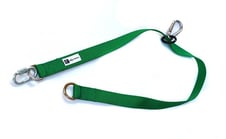 Made by a wheelchair-user and sold on Etsy, the Partner Link wheelchair leash is an adjustable service dog leash that connects directly to the wheelchair by using a carabiner clip. It also can be adjusted from a short 16 inches to a longer 32 inches. Learn more.
8) Bicycle Dog Leash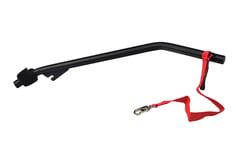 Bicycle dog leashes are highly recommended by wheelchair-users because they create a gap between the wheelchair and the dog, preventing the leash from getting stuck in the wheels. If you want to use this independently as a quadriplegic, you'll have to keep it permanently on your wheelchair. Otherwise, many quadriplegics find that if they have attached with assistance, they can take it from there. Learn more.
7) Chest Leash
Many people swear by hands-free dog leashes that go around the waist or neck. Wherever you feel most comfortable, you can attach your hands-free dog least to your body so you don't have to worry about holding the leash as you push or drive your wheelchair. You can also add a carabiner clip to make it easier to attach to your dog's collar. Learn more.
6) Custom Quad Wheelchair Leash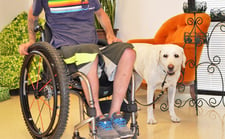 This custom dog leash is made specifically for quadriplegics. It attaches to the frame of the wheelchair and features an easy D-ring. It also has a hook for attaching to the wheelchair. This design also prevents the leash from getting stuck in your wheels. Learn more.
5) Liberty Wristband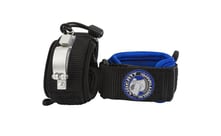 A completely hands-free leash attachment developed by a quadriplegic, the Liberty Wristband is a leash attachment that can work with whatever leash you're currently using and it is a quick-release mechanism. Learn more.
4) ThunderSnap Dog Leash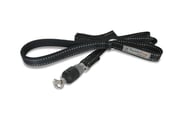 A perfect solution for anyone with limited hand movement, the ThunderSnap Dog Leash uses powerful magnets to attach to your dog's collar and it's guaranteed to stay closed. It also features a sturdy ball-bearing latch. The only drawback to this leash - it cannot be used on dogs over 25 pounds. Learn more.
3) Slip Lead Leash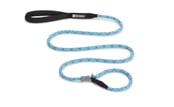 A slip lead leashes are popular with quadriplegics because no collar is required for your dog. All you need to do is slip the end loop over the dog's head, and you can secure it without any finger movement. It also has a big handle that makes it easy to hold for quadriplegics. Learn more.
2) Quick-Release Wheelchair Leash System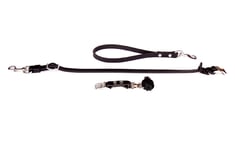 This specially designed leash can be used hands0free or it can be detached and held in your hand. It features a chair attachment to install to your wheelchair with a Velcro wrap. It also has an easy to use quick-release buckle in case of emergency. The leash length can also be adjusted. Learn more.
1) Orochi Ski Leash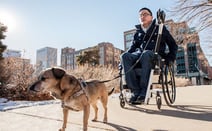 Developed by a man with paraplegia, the Orochi ski leash lets you walk up to two dogs in almost any manual wheelchair. The leash features a carbon fiber tube capable of holding up to two retractable leashes. It also features various clamps and hooks brackets, as well as a quick-release pin. Learn more.
There are more options than ever before for quadriplegics interested in walking their dogs. There also plenty of DIY solutions that can be found here (the site is in Swedish; Google translates)
Stay Updated on Advancements On Traumatic Brain &
Spinal Cord Injuries
About the Author
Spinal Cord Team
The authors of Spinalcord.com are made up of attorneys, those in the medical field, and survivors of spinal cord injuries or traumatic brain injuries. Learn more about our team of authors including a brief biography that explains how they impact the SCI and TBI community.
Learn More About the Author