Zika Causing Worst Brain Infections Doctors Have Ever Seen
Publish Date: September 22, 2016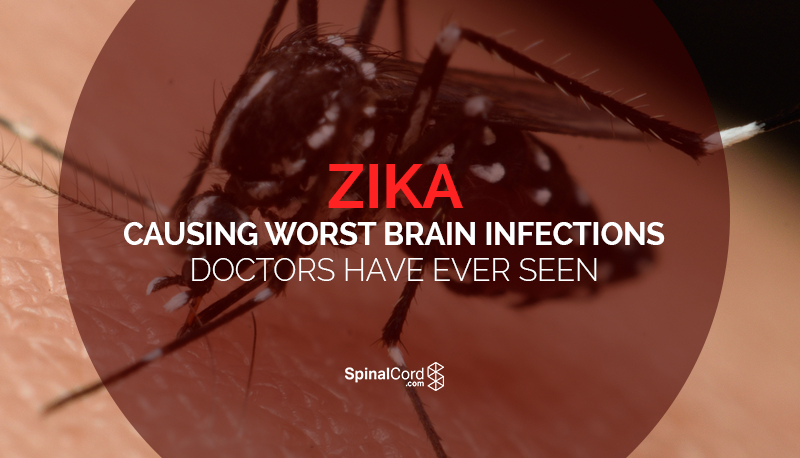 Zika, once thought to only cause flu-like symptoms that would dissipate in a week, is now being seen as a much more frightening virus linked to some of the worst brain infections doctors have ever seen. The media has been reporting on the birth defect known as microcephaly since November 2015, when it was discovered in Brazil that there is a direct link between Zika and the defect.
Today, Zika brain infections are becoming of greater concern, due to additional diagnoses being found to also have a connection to the Zika virus. With that in mind, you may be wondering what Zika brain infections you need to be aware of, what the symptoms are, and how you can protect yourself. Here's what you need to know.
A brief background on Zika
The most commonly known diagnosis directly related to Zika is microcephaly. Occurring in infants, microcephaly is a condition where a baby's head is much smaller than expected. It can be an isolated condition with no other major birth defects, or it can occur in combination with other major birth defects.
Zika brain infections that have also been linked in fetuses include defects of the eye, hearing deficits, and impaired growth. Although Zika is not confirmed to be the cause, the Centers for Disease Control and Prevention (CDC) says, "There have also been increased reports of Guillain-Barré syndrome, an uncommon sickness of the nervous system, in areas affected by Zika." Guillain-Barré syndrome causes your body's immune system to attack your nerves.
Zika and brain infections
Additionally, there have been reports of babies being born with calcium deposits in their brain, reduced brain matter, and ventriculomegaly, an acquired brain injury condition in which the ventricles of the brain will swell and become abnormally large. Unfortunately, as recently as August 2016, scientists have learned that Zika Virus is not just affecting the brains of babies, but adult brains as well.
Bloomberg.com reported that researchers from Rockefeller University and La Jolla Institute for Allergy and Immunology performed a study that found an adult brain could be negatively impacted by the virus. Though performed on adult mice, the researchers claim that their findings prove that an adult human brain could suffer similar results. Their specific findings in the study published in Cell Stem Cell, were that the "Zika virus (ZIKV) can infect neural progenitors in the adult mouse brain," and that "ZIKV-infected adult NPCs (neural progenitor cells) show evidence of cell death".
How can you get the Zika virus?
According to the CDC, Zika is mainly transmitted through mosquito bites. The Aedes mosquito is the primary mosquito that carries the Zika virus. Zika spreads when an Aedes mosquito first bites someone who has the virus, and then bites another human thereby transmitting it to the new victim.
Zika can also be transmitted from a pregnant woman to her fetus, from one person to another through sexual intercourse, and possibly via blood transfusion. Transmission via blood transfusion is the only one considered "very likely but not confirmed." The virus also spreads to new locations (i.e. new countries and territories) when someone who has Zika travels to a new location and is bitten by mosquitos in that new location.
A journalist, named Nick Brown, who visited Puerto Rico was surprised to learn he too had contracted the Zika Virus, and said in his account of what's been happening to him that he's unsure when he got it. His biggest fear is giving it to his wife because it can be transmitted via sexual contact.
The sad reality is that there is currently no vaccine or cure for Zika virus, the discovery of a cure could take years, and it's spreading at an alarming rate. In August 2016 Brown said "the U.S. government declared a public health emergency in Puerto Rico, the hardest hit among states and territories. More than 17,800 infections have been reported on the island, including more than 1,500 among pregnant women, and one case of microcephaly in an aborted fetus." There are also no known cures for many of the infections and defects causes as a result of Zika, including microcephaly and Guillain-Barré.
What can you do to prevent yourself from getting Zika Virus?
The CDC recommends things like wearing long-sleeved shirts and long pants when outdoors, staying indoors with the windows and doors closed, using EPA registered insect repellents, and using mosquito netting if you are unable to close doors/windows or if you will be sleeping outside. For more information on prevention, you can download the CDC's white paper on the subject here. And, to learn more about living with brain injuries, please visit our page on acquired brain injuries.
Topics:
News, Research, Traumatic Brain Injury
Stay Updated on Advancements On Traumatic Brain &
Spinal Cord Injuries
About the Author
Spinal Cord Team
The authors of Spinalcord.com are made up of attorneys, those in the medical field, and survivors of spinal cord injuries or traumatic brain injuries. Learn more about our team of authors including a brief biography that explains how they impact the SCI and TBI community.
Learn More About the Author