3 Inspirational Spinal Cord Recovery Stories
Publish Date: December 04, 2020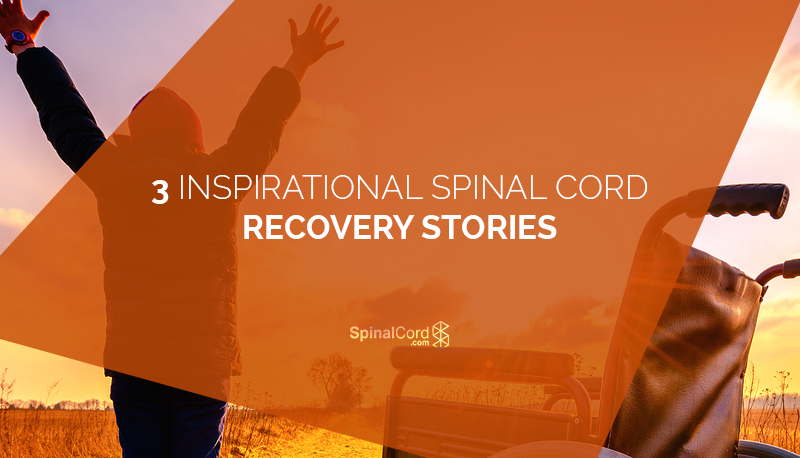 A spinal cord injury can be one of the most harrowing experiences an individual is forced to endure, but even such a devastating incident doesn't mean that all hope is lost. Spinal cord damage can certainly change the course of your life, leaving you to adapt to a new lifestyle.
However, there is still cause to keep hope alive. After all, many of those in a similar situation have seen significant improvement over time, and every day brings with it new possibilities.
Here are a few spinal cord injury recovery stories to inspire you to remain positive in the face of these dark circumstances.
Happiness Reclaimed
Dana Guest was just an ordinary high-schooler back in the summer of 2000. Just months away from her senior year, Dana was on her way to meet her mom when a full-sized mack truck -- going 55 miles per hour, no less -- slammed into her car at a red light. During the ambulance ride, Dana realized that she couldn't feel her feet and legs. She had suffered a complete injury to the sixth cervical section of her spine, leaving her a quadriplegic unable to regain feeling in her limbs. Meanwhile, the driver walked away without any injury whatsoever.
However, after six weeks of rehabilitation in Shriner's Hospital for Children in Philadelphia, Dana gradually began to develop sensation in her triceps. Just a year later, she regained full feeling in her hands and arms. Returning to school that fall, Dana managed to graduate with honors, and thanks to her strong support system, she was able to return to a relatively normal life. Today, she is mother to a little girl and even manages her daughter's soccer team. In addition, Dana sits on the board of the Core Foundation -- helping raise money for the financially destitute -- and is an instrumental force in planning the Push Nation Fest, an event designed to unite people who have been affected by spinal cord injuries.
The Walking Miracle
Back in 1974, an auto accident caused Pat Rummerfield to suffer a broken neck in four places, and doctors expected him to be dead within 72 hours. The injury did leave him a quadriplegic, but rather than accept his fate, Pat -- with his father's tireless help -- decided to take his rehabilitation into his own hands just a year after beginning treatment at a physical rehab facility. Seventeen years later, Pat's determination paid off, and he became a fully-functional quadriplegic, what many in the medical community have deemed a "walking miracle."
In fact, Pat's condition has improved so dramatically that he is now able to walk and run. He even started entering races as a way of raising money for spinal cord research. In 1992, he completed an "Ironman" triathlon and is even a licensed race car driver to boot. Despite the fact that spinal cord injuries have no designated cure, Pat has been able to reclaim his life. This experience has led him to devote his time to helping others who have been similarly affected, and his example continues to inspire patients everywhere. Medical researchers are still trying to determine exactly how Pat was able to make a full recovery, as his case may bring them closer to a cure.
Race to Recovery
Dustin Shillcox prefers to believe nothing in life is impossible. During a fateful car accident in 2010, his life was forever changed when a spinal cord injury left him paralyzed from the chest down, but thanks to a revolutionary new treatment announced in 2014, he has made incredible strides in recovering movement and sensation throughout his body. Funded by the Christopher & Dana Reeve Foundation, the process known as epidural stimulation involves implanting a device on the spine that can help stimulate the nerves and essentially jumpstart them into functioning again.
Only one of four men to receive this experimental treatment, Dustin is now able to stand and move the lower half of his body with simply the flick of a switch. In fact, he was even able to finish the New York City Marathon in fall 2015 as a hand cyclist. Dustin still attributes much of his recovery to the late Christopher Reeve and the incredible work his organization has been able to achieve in recent years. Thanks to epidural stimulation, Dustin and the other three test subjects have been able to regain a tremendous amount of their bodily functions, giving hope to the millions of paralyzed individuals facing a similar situation.
Hope Lies Ahead
With any luck, the tales of personal struggle and triumph described above can offer a bit of respite from the emotional and physical rigors involved in a spinal cord injury. Dana, Pat and Dustin have been through a great deal, but thanks to years of effort and sheer force of will, they have emerged stronger and happier as a result. Their spinal cord injury recovery stories are a testament to the value of staying the course when it comes to treatment. If you or someone you love has been affected by such an incident, remember that new medical breakthroughs are happening all the time. Keep your spirits up, and remember that nothing is impossible.
Topics:
Survivor Stories & Inspiration
Stay Updated on Advancements On Traumatic Brain &
Spinal Cord Injuries
About the Author
Spinal Cord Team
The authors of Spinalcord.com are made up of attorneys, those in the medical field, and survivors of spinal cord injuries or traumatic brain injuries. Learn more about our team of authors including a brief biography that explains how they impact the SCI and TBI community.
Learn More About the Author