Electrical Stimulation Helps Man Move Legs for the First Time in Years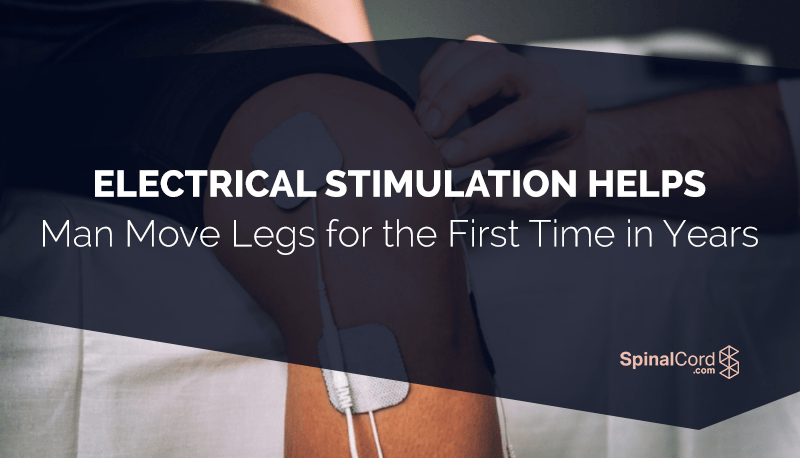 Published in a recent issue of the Mayo Clinic Proceedings, Mayo Clinic, in collaboration with researchers from UCLA, conducted a study with a patient that enabled the voluntary movement in his legs for the first time in years.
With the help from V. Reggie Edgerton, Ph.D. at UCLA and the previous work from Susan Harkema, Ph.D. from University of Louisville Kentucky, the study started with a 22 week period of integrated intensive physical therapy, followed with epidural electrical stimulation (EES) to enable the patient to intentionally move their legs.
Details of the Mayo Clinic Study
The physical therapy was done three times a week for 22 weeks. Since the patient's legs experienced atrophy since the injury, the physical therapy is done to prepare the patient's body for movement. After the intense therapy, an EES was implanted below the injury site in the space between the vertebrae and the spinal cord. When activated, the EES emits a continuous electrical current and a separate remote controls the frequency and intensity to activate nerve circuits.
After surgery and recovery, the patient resumed physical therapy with the addition of the EES. In this replication of the studies from UCLA and University of Louisville, the patient was able to intentionally control his muscles and make step-like motions while lying down and stand independently with support within two weeks of using electrical stimulation.
Dr. Kendall Lee, director of Neural Engineering Laboratories at Mayo Clinic clarifies that "we're not activating the muscle itself, but we are trying to neuromodulate the spinal cord so that the patients can decided whether they want to move their legs or not." Essentially, the electrical stimulator is not moving the patient's legs, but gives the patient the ability to choose to move their limbs.
Implications on Post-Surgical Rehabilitation
One of the biggest implications from this study is that it "has really set the tone for our post-surgical rehabilitation," as mentioned by a co-principal investigator, Kristin Zhao, Ph.D. These results can be promising for return of more functions and ability in complete and incomplete spinal cord injury survivors. It is still early and more research is needed.
Topics:
Technology & Advancements, News, Research, Treatment
Stay Updated on Advancements On Traumatic Brain &
Spinal Cord Injuries
About the Author
Spinal Cord Team
SpinalCord.com has been created as a resource for patients of spinal cord injuries and their families. Find everything you need to learn more about your injury, locate a doctor or treatment center, or discover financial relief to support you through this difficult time.
See More Posts