Exoskeletons: The Best Available for SCI Survivors
Robotic exoskeletons are among the most exciting technological investments to become available in recent years to people with spinal cord injuries (SCI). For centuries, people with paralysis were resigned to using wheelchairs, but that is no longer the case thanks to these awe-inspiring walking devices. Yes, that's right: Exoskeletons can help you to walk again.
Robotic exoskeletons have been making headlines in recent years with one man even competing in the inaugural Cybathlon in Zurich, Switzerland, in fall 2016. As of 2018, there are several major exoskeleton manufacturers competing for the spinal cord injury dollar. While some are vying for FDA approval, a few have already received it.
From exoskeletons that cost under $20,000 to exoskeletons that are seven times more expensive, I've put together a list of the top five exoskeleton makers to know about below.

ReWalk Personal 6.0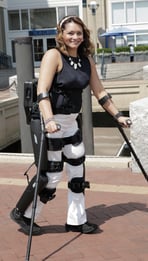 Originally from Germany but based in Massachusetts for U.S. inquiries, the ReWalk Robotics exoskeleton was the first exoskeleton to be approved for personal use by the U.S. Food and Drug Administration (FDA) in 2014. The robotic exoskeleton allows users to sit, stand, walk, turn, as well as climb and ascend stairs. Unfortunately, the stairs function is not approved for use in the United States. While the company manufactures two exoskeleton models, only one is designed for personal use: the ReWalk personal.
This exoskeleton is defined by its crutches, which are required for use. The crutches provide stability and allow the exoskeleton to know when you want to initiate walking. A drawback of the ReWalk is that it is intended for paraplegics only. The cost of a ReWalk Personal ranges from $70,000 to $85,000.
Ekso Bionics — EksoGT
Based in California, Ekso Bionics manufactures the first robotic exoskeleton to be approved by the FDA for use by some quadriplegics. The EksoGT, which is available only through rehabilitation centers, can be used by people with injuries up to the C7 level (so long as they have at least 4/5 upper extremity motor function). This exoskeleton also requires crutches to use the device, or a walker can be used. It also has just been integrated with functional electrical stimulation (FES), a feature that is currently only available in Europe, that stimulates the paralyzed muscles in your legs as well.
It is rather expensive, as the EskoGT currently costs upwards of $100,000. However, there are clinics around the country that will allow you to try one for free.
Indego Personal
At arpimd $80,000, the Indego Personal exoskeleton is an exoskeleton that SCI survivors can potentially afford, particularly wth help. It is made by Parker Hannifin, a company that is based in Ohio. Only recently approved by the FDA in 2017, the Indego personal exoskeleton is one of the lightest weight exoskeletons on the market, weighing in at only 26 pounds, and is one of the most inexpensive units available on the market.

The Indego is also only intended for paraplegics, levels T3 to L5, and it cannot be used on stairs. Currently, it is only available for walking. Aside from the price, some of the other significant bonuses of this exoskeleton are that it offers versatility and wireless operation, as well as quick fit and setup.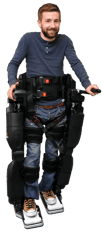 REX P
Based in New Zealand, Rex Bionics makes some of the world's most powerful robotic exoskeletons. They create fully-functional exoskeletons that do not require crutches and also can be used by people with quadriplegia thanks to its torso encasement. However, the downside of this amazing exoskeleton is that it has yet to be approved by the FDA, and also costs a handsome sum — roughly $150,000.
The REX offers complete control to the user, including walking forward, backward, and climbing stairs. I'm hoping it will be approved by the FDA soon!
Phoenix Exoskeleton
Another lightweight exoskeleton made in the United States is the Phoenix exoskeleton (featured image above) made by SuitX from California. This exoskeleton is also very lightweight, weighing in at 27 pounds, and can provide up to four hours of continuous walking (up to eight hours of intermittent walking) on a single battery charge.

The Phoenix allows you to stand up and talk to people at eye level; it also helps you walk and sit down. This exoskeleton is one of the cheapest on the market at only $40,000.
The future is now. Embrace it! Acquiring an exoskeleton might seem like a far-off dream, but it can happen, especially now thanks to these FDA approvals. Don't be afraid to fight for what you deserve and use social media (Kickstarter) as well to get the word out to everyone you know.
Which exoskeleton appeals the most to you and why?
Topics:
Spinal Cord Injury, Technology & Advancements, Advice & Tips
Stay Updated on Advancements On Traumatic Brain &
Spinal Cord Injuries
About the Author
Tiffiny Carlson
Since 1998, Tiffiny Carlson has been a prolific commentator on all things SCI in a number of prominent magazines, blogs and websites. Hailing from Minnesota, she was the SCI Columnist for New Mobility Magazine for 13 years and she currently works as the Executive Director of SPINALpedia, one of the leading websites for people with SCI to share videos and stories. She has been a C5-6 quadriplegic since a diving accident 24 years ago. Tiffiny has also been a fierce advocate for SCI research. In 2016, the Morton Paralysis Fund honored her for her work. While all SCI topics interest her, dating, love and the business of relationships have always been where her passion lies the most.
See More Posts