How Many People Are Living With A Spinal Cord Injury?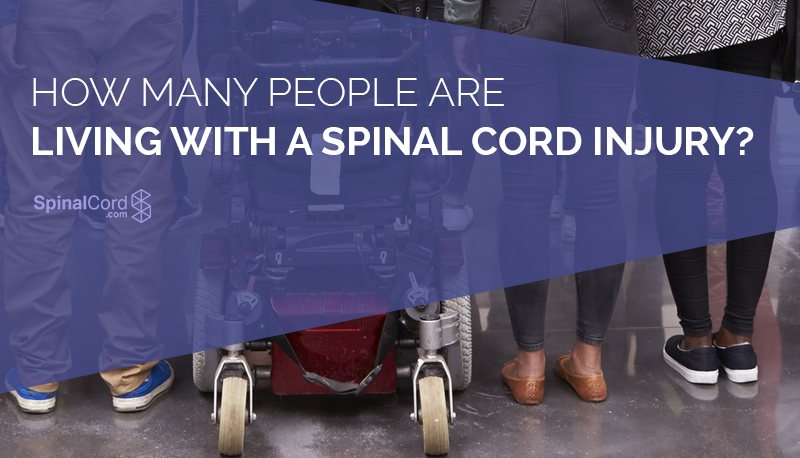 Whenever anyone suffers from a spinal cord injury, the tremendous impact it makes on your life and those of your loved ones often results in a period of shock and readjustment to the aftermath of your injury. Truly, life after such an incident may not come easy, and it's common for patients to feel as if they're all alone in the world, regardless of how large his or her support system may be. Yet, despite the immediate alienation that accompanies a spinal cord injury, the fact remains that this particular form of nerve damage is far more common than most people realize.
To better put the condition into context, we're taking a closer look at just how many people out there are living with a spinal cord injury and some illuminating statistics about the condition itself. With a bit more knowledge to light your way toward treatment and recovery, this data should be able to reassure you that you are not alone in your struggle and that the injury you've sustained is far from an anomaly in the medical community.
The Facts and Figures
Thanks to increased awareness of the prevalence of spinal cord injuries, recent research has brought a ton of insight into the condition and those affected by it. As of 2015, as many as 337,000 people with diagnosed spinal cord injuries were living in the United States alone, with roughly 12,500 new cases arising each year. The average age of those affected has also arisen from 29 to 42 since the 1970s, but the average length of stays in hospitals and rehab centers has dropped from 24 and 98 days, respectively, down to 11 and 36 days. Likely, this is due to enhanced technology, making it possible for patients to receive outpatient care in the comfort of their own homes.
Despite this, one of the biggest obstacles spinal cord injury patients face, aside from their physical recovery, is the mounting medical costs that result. Research shows that initial hospitalization costs an average of $140,000, with an average total of $198,000 in first-year expenses across all types of injuries. That number ranges greatly for paraplegics and quadriplegics, however, as they face first-year expenses of $152,000 and $417,000, respectively. For the latter, that's an average lifetime cost of $1.35 million, and only half of patients are covered by health insurance when the injury occurs.
As far as the cause of spinal cord injuries, the most common remains vehicular accidents, accounting for 38 percent of injuries. Falls were next in line, with 30 percent of spinal cord injuries occurring due to damage inflicted during slips, falls and other mishaps. Violence -- in particular, gunshot wounds --claimed 14 percent of existing spinal cord injuries, with sports and recreation-related injuries at 9 percent and medical accidents (including those during surgery) at 5 percent. 4 percent of remaining injuries resulted from a variety of unnamed causes. Males make up the vast majority of patients, at a staggering 82 percent according to reports.
The more data we accumulate regarding the impact and circumstances behind spinal cord injuries, the more we can understand how to combat the condition and provide a better standard of living for those dealing with the reality of a spinal cord injury. In just the last few years, we've already seen sharper diagnosis and a more informed public provide us with the means to make a real difference in how spinal cord injury patients are treated. The above statistics may be shocking, but it's the truth behind them that needs to be uncovered to develop new ways of tackling this debilitating condition.
The Reality
Following a spinal cord injury, many people suffer significant emotional and mental damage to match their physical condition. With so much anguish in their life, it's no wonder that those suffering from spinal cord damage find themselves wrestling with depression and other harmful ways of thinking as they try to piece their lives back together. As a result, spinal cord injury survival translates to far more than merely sustaining potentially deadly trauma and living to discuss it. It's about staying empowered to face what comes next and finding a new path.
As they say -- strength is in numbers -- and rarely is this truer than when it comes to a medical condition as devastating as a spinal cord injury. While you might feel emotionally distraught or even disconnected from life after your spinal cord injury, it's essential that you remain strong and reach out to a community for uplift and inspiration. Many individuals who are facing a struggle similar to your own have opened up their hearts and their lives to provide hope, and the addition of a spinal cord injury attorney could very well mean some financial relief as well. Stay vigilant, and better days are sure to follow.
Topics:
Spinal Cord Injury, Treatment, Recovery & Rehabilitation
Stay Updated on Advancements On Traumatic Brain &
Spinal Cord Injuries
About the Author
Robert Yaniz Jr.
Robert Yaniz Jr. has been a professional writer for more than a decade, including print and online publishing. His experience includes writing various materials for the marketing communications department of a global law firm.
See More Posts