Matt Brown's Story of Friends, Family, and Goals After SCI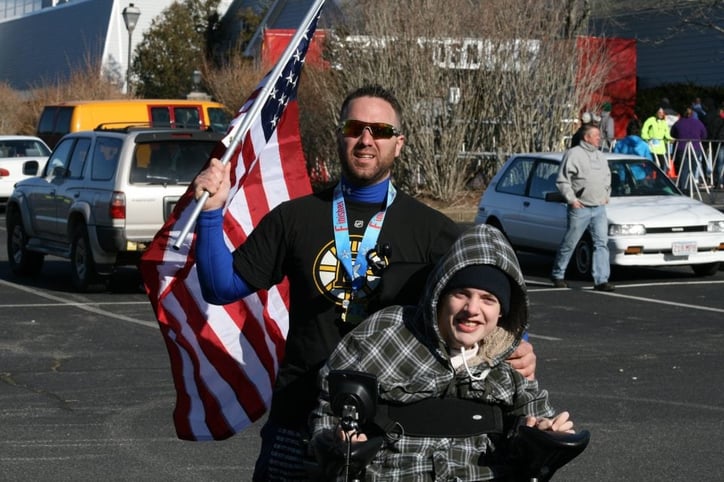 In 2010, I was a sophomore playing for the Norwood High School varsity hockey team. I had been called up from the JV team in December. We had a game against Weymouth on Saturday, January 23rd. It was a late afternoon game so all of the boys were excited to do something after the game. The plan was to go in, do our job, get the win and all hang out after. When the game started, we realized that we were pretty outmatched.
Weymouth was a powerhouse that year but we still fought like hell. To be honest with you, I don't really remember much of the first period. What I do know is that we were not playing well and our coach let us know during that first intermission.
The second period started and a few minutes in, my line was called. As I hopped the boards, I saw that the puck was in our end. As I skated into our zone, the puck was shot towards the boards behind the net. I went after the puck and as I approached it, it ricocheted off the boards, came back between my feet, and I looked down. At the same time, I was bumped from behind, lost my footing and went headfirst into the boards. As I laid on the ice I floated in and out of consciousness but I knew something was terribly wrong. I can remember coming to and looking around and seeing that the bottom of my mother's jeans were wet up above the ankle. That let me know she had been on the ice a long time and this was serious.
As I lay on the ice, I was treated by EMTs and paramedics and they loaded me onto a stretcher and into an ambulance as quickly and safely as they could. The ride from the rink to South Shore Hospital took what seemed like hours. I was nervous. I was staring at the lights on the ceiling of the ambulance wondering what had just happened. As I arrived at South Shore, I was quickly given medicine to make me comfortable and ultimately put me to sleep. After a few quick x-rays I was transferred to Children's Hospital in Boston and woke up there four days later.
My Experience at Children's Hospital
I won't sugarcoat it. There were some dark moments in the early days at Children's. I asked why a lot. Why me? Why did this happen to me? What did I do to deserve this? I can remember thinking a lot about will I do this again, will I do that again. One of the biggest things that kept me going was the constant support I had in my three weeks at Children's. It was truly like a revolving door. People coming in, people going out, letting me know they were going to support me and that the community really had my back. My family and friends were there all the time. It was the first time I knew that I was not going to take this journey alone. That there were people that were going to help me. It was at that moment, at that time, that all the "will I's" turned to "when I's".
I made a decision that it was time to look forward and not back. I could not change what had happened, no matter how much I wanted to. My decision was to work as hard as I could, for as long as it took, to beat this and set a goal. That I will walk again. Yes, my life changed that day, but it did not end. Then, at 15 and now at 23, I still have a life to live and each day I try to live it to the fullest.
Next Stop: Shepherd Rehabilitation Center
After my 21 days at Children's Hospital, it was time to move on. It was time for the next step in my road to recovery. We found the Shepherd Rehabilitation Center located in Atlanta, Georgia and that's where we were going. I spent nearly 3 months there, working out and getting healthy, and learning what the world was going to be like in a chair. That didn't and doesn't mean I'll be in it forever, but I needed to learn how to live in it for now. It also hit me that I had other people there to help me. There were people there to help me work out and people there to just answer the questions I had. There were also other kids at Shepherd that had suffered spinal cord injuries. It was a big deal talking with these kids about their injuries and how they were dealing with it. It helped knowing I was not the only one going through this and we helped each other just by talking.
When I found out it I was going to Atlanta, I was nervous I was going to lose all my support. However, I was wrong. That revolving door of support followed me down. I was extremely lucky to have friends and family visit me almost every weekend. That was the sort of stuff that kept me going. Before I knew it, March turned into April, April turned into May, and I found myself back home in Norwood on May 5th. This was an important time. It had been over 100 days since I've been in my home and in my town. I was able to see friends constantly and have people to talk to. Being 1000 miles away for that long took a toll on me. It wasn't easy and I had to prepare myself every day to deal with what was going on. But I had made my decision to stay positive, be patient and work hard every day. Stay positive, be patient. Just 4 words but so important. A friend said those words to me the first day I was in Children's and they stay with me every day. It has helped me overcome any adversity I encounter.
A True College Experience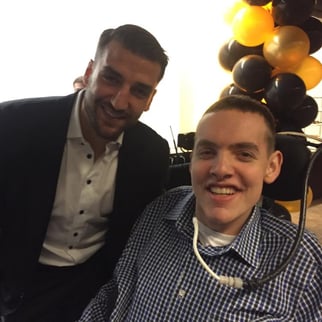 As I returned home, I was two terms behind in school so I caught up over the summer. I could have taken the easy way out. I could have just hung out and done nothing during the summer, but I decided that if I was going to graduate with my class, I was going to have to put in the work, so I did. I did two terms over that summer going into my junior year and caught up. I ended up graduating with my class in 2012.
So the question was, now what? I wanted to go to college. All of my friends were heading off and I thought, why not me? I applied and was accepted into Stonehill College down in Easton where I graduated from in May 2016. I lived on campus for all four years. I wanted to have a true college experience. Not a "get dropped off and picked up" experience. You hear the stories of freshman being nervous when they get dropped off at college for the first time? How do you think I felt? But I made the decision, if I wanted to go to college, I was going to have to push myself and move out of my comfort zone at home. Believe me, it was not easy. In the early days, I even thought I made the wrong decision. But with help from friends and teachers and aides, I did it. I went to college, lived there for all four years, and graduated with a degree in communications. A feat I nearly crossed off my list in 2010.
Staying Busy and Staying Positive
Since then, I have been doing my best to stay busy. I attend physical therapy three days a week. My running partner and I participate in road races. We have done the Boston Marathon (4X), the New York City Marathon (2X), and the Hyannis Marathon on Cape Cod once. I speak to high schools, colleges, and organizations about my injury and facing adversity every day head-on. I enjoy going out to dinner, hanging with friends, going to the movies and staying busy. As I said, in 2010, my life changed but it did not end. I still have a long life to live.
Now like most people, I have good days and bad days. While the good days definitely outweigh the bad, I need to make sure the bad days don't linger. I may get down, but I don't stay down. Because what good is it to stay down? I need to make sure I move on from those bad days. Sure, I could be pissed off and angry, but would that change anything? I can wish that the accident didn't happen, but it did. That is the reality and I have to deal with it. I have to deal with this adversity. All of us face adversity. Everyone reading this faces adversity in some way. Whether it is at home or at school. In the classroom or at work. The most important thing is how you deal with it. You can't change the past, no matter how much we want to. So focus on how you will deal with difficulty or hardship, bad luck or misfortune. You have choices. It is important that you stay positive and find ways to stay positive. Go at it head on and face it each day. As I mentioned earlier, my life changed but it did not end.
I often talk to my mom, my dad and my sister about staying positive, going to physical therapy and working on staying healthy, and how I will always keep working towards my goal of walking again because what is the alternative? Giving up and throwing in the towel? Saying okay, guess that's it, I'm satisfied with staying in the chair. No way. That is simply not an option. The other thing is "What if?"
What if tomorrow is the day that my arms and legs start to work? What if tomorrow is the day that I start to get movement back? What if tomorrow is the day there is a medical breakthrough and the cure for paralysis is discovered? Why would I ever stop when tomorrow could be today?
Throughout this journey, my family and I have established a Never Quit motto. It's simple. You can get through anything and you don't have to do it alone. Whatever it is, it might not be easy and will challenge you, but know that you all have it in you to overcome adversity and overcome challenges. Lean on those around you for support and let others lean on you who are in need. Do not let the negative win. If you work hard, stay positive, and keep your eye on the goal, anything is possible.
Topics:
Survivor Stories & Inspiration
Stay Updated on Advancements On Traumatic Brain &
Spinal Cord Injuries
About the Author
Matt Brown
In 2010, I was 15 and a sophomore in high school. In January, I had been called up to the varsity hockey team. On Saturday, the 23rd, we had a late afternoon game against Weymouth. During the second period, I raced after the puck as it entered into our zone. As I approached it, the puck ricocheted off the back boards and between my feet. At the same time, I looked down and was bumped from behind, losing my footing and ended up going headfirst into the boards, breaking my C4 – C5 vertebrae, leaving me paralyzed from the shoulders down. Fast forward seven years later and I have not let that injury stop me. I graduated high school on time and with my class. I went on to not only attend college, but live on campus and graduate with a degree in communications in four years. Aside from academics, with the help of a running partner, we have competed in the Boston Marathon 4 times, New York City Marathon 2 times, and the Hyannis Marathon once. Along with many other road races. In 2010, my life changed but it did not end. I still have a life to live. In the hospital, I made a decision. My decision was to work as hard as could, for a long as it took, to beat this and set a goal. That I will walk again. It may be taking longer than I would have liked, but I'm going to continue working and have some fun along the way.
See More Posts