Quadriplegic Driving: The Facts About Handicap Vehicles
Publish Date: December 08, 2020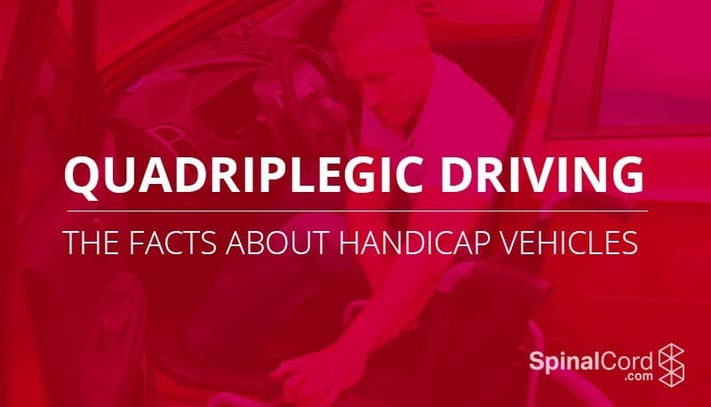 Car and motorcycle accidents contribute to 35% of all spinal cord injuries, making them by far the leading cause. But despite this danger, newly recovered patients are taking the risk of "getting back on the horse" after an accident every day.
Driving is a critical component of our daily life. It's something which, after we turn sixteen, we often take for granted in how important it actually is for fostering a sense of independence. Read on to find out more about what quadriplegic driving actually entails and how it's changing the lives of patients every day.
What is Quadriplegia?
Quadriplegia is paralysis of all four limbs of the body. A person can suffer from this condition following a variety of brain and spinal cord injuries that cause damage to the cervical level of the spine (C1- C7). Not only does this cause obvious problems in regards to completing everyday tasks, but it can also cause other factors, such as intense pain, blood clots, respiratory problems, and loss of bladder and bowel control.
Like all medical treatments, the rehabilitation process is person-specific and individual to personal needs and requirements. While there is still not a complete cure for paralysis, with society and medicine progressing as it is, researchers have made a great deal of progress toward returning people to a life with which they are familiar. For a lot of people, being able to drive following a brain or spinal cord injury is a way to regain some freedom from their condition.
The Facts About Handicap Vehicles
There are many vehicles and adaptations which allow quadriplegic driving. Each solution provides recovering SCI patients with a sense of independence that they may have felt was taken away after their injury.
Standard Car Adaptations
For starters, there are several adaptations which can be fitted right onto a regular car, such as ignition key relocation, multi-function hand controls, pedal modifications and more. Electronic driving aids are another form of adaptation, and these control the pedals, locking system, signals and others at just the touch of a button.
Many people with injuries between C1-C7 may experience fully-functioning arms with some finger dysfunction though this is not always the case. With this in mind, the adaptations can be set specifically for the individual's abilities and preferences. Of course, these adaptations can be very pricey, ranging from around $20,000 up to $80,000, and so looking into potential charitable funding may be an idea, such as the Ralph Braun Foundation or other sources of financial assistance after a spinal cord injury.
Specially Designed Handicap Vehicles
Alternatively, there are vehicles specially designed for those in wheelchairs that have features to make quadriplegic driving possible. Some have side or rear entrances which make it easier to enter and exit the van. These are often bigger vehicles, which provides room for wheelchairs, many of which have lowered floors for ease.
Can I buy myself a modified car and drive straight away?
In short, no. You will require an assessment from a qualified handicap driving trainer in order to establish your abilities, requirements, and goals. This evaluation will also look into things such as your muscle strength, reaction times, and range of motions. This assessment will help them determine your readiness to return to driving. You cannot be refused lessons if you are a learning driver. However, you will still require an assessment first.
Local rehabilitation centres will be able to point you in the right direction in regards to a driver trainer before you can start your journey back on the road. The Association for Driver Rehabilitation Services is a great resource to refer to, with services directories and lots of other helpful guidance on vehicles, adaptations, funding, and finding yourself a driver trainer to assess your abilities.
Acquiring paralysis from a brain or spinal cord injury is a tragic life-changing event, one which impacts not only on the patient but their family as well for the rest of their life. Unlike decades past, there are now forward-thinking ways to help patients and their families return to some form of familiar normality, including quadriplegic driving, and provide as much freedom as is possible.
Topics:
Spinal Cord Injury, Technology & Advancements
Stay Updated on Advancements On Traumatic Brain &
Spinal Cord Injuries
About the Author
Spinal Cord Team
The authors of Spinalcord.com are made up of attorneys, those in the medical field, and survivors of spinal cord injuries or traumatic brain injuries. Learn more about our team of authors including a brief biography that explains how they impact the SCI and TBI community.
Learn More About the Author