Are Spinal Cord Stimulators Safe? What You Need to Know!
Publish Date: December 03, 2020
Although there are many pain management treatments available for chronic pain, spinal cord stimulation (SCS) is one of the most commonly-used methods of treatment. As such, spinal cord stimulator implants are among the fastest-growing medical devices on the market in what has become a $400 billion industry. Often viewed as a safe alternative to addictive opioid prescriptions, these devices are frequently used to treat chronic pain. They are widely regarded as being beneficial to individuals with spinal cord injuries (SCIs) in helping them recover from their injuries.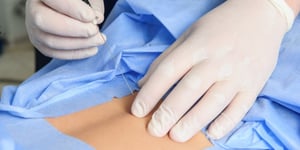 However, this method of treatment is not without issues. Spinal cord stimulator problems have been reported by tens of thousands of people around the United States. New research shows that using even the best spinal cord stimulator is not without risk — and, in some cases, may do more harm than good.
What Are Spinal Cord Stimulators?
Spinal cord stimulator implants consist of a generator implant, extension wires, leads, and a controller remote. The generator is implanted into the lower back of the patient via spinal cord stimulator surgery. Through the wires and the leads, low-level electrical currents are applied to the spinal cord. The patient can control the application of electrical currents through the controller. It is thought that the currents disrupt pain signals from the body to the brain, which helps mask them.
This article aims to address some of the spinal cord stimulator problems (and their benefits) that you or your loved one should consider when evaluating a spinal cord stimulator implant:
The Top Spinal Cord Stimulator Problems (and Benefits)
Benefits of Using a Spinal Cord Stimulator Implant
Spinal cord stimulators are estimated to be implanted to more than 60,000 people each year, and many people report positive effects from their use. These devices have been shown to have positive effects on spinal cord injury survivors who have lost sensory and motor function.
We've written before about some of the benefits of epidural stimulation for SCI survivors in their spinal cord stimulator implant recovery. These benefits include:
Improvement of motor control;
Bladder and bowel function return;
Return of sexual desire; and
Improved mental state.
However, in addition to the accolades that the spinal cord stimulator implants receive from medical professionals and researchers, less positive reports have also been made relating to a variety of spinal cord stimulator problems.
Spinal Cord Stimulator Complications
Different spinal cord stimulator problems have been reported over the past 10 years. According to a report by the Associated Press, spinal cord stimulator implants:
"Are more dangerous than many patients know… They account for the third-highest number of medical device injury reports to the U.S. Food and Drug Administration, with more than 80,000 incidents flagged since 2008."
According to the AP report, which looked at medical device-related injuries reported between 2008 and 2017, spinal cord implants have a "disproportionately high number of injuries compared to hip implants, which are far more plentiful." Some of the reported complications from a spinal cord stimulator include:
Device malfunctions;
Shocks or burns;
Infection;
Spinal cord nerve damage;
Muscle weakness; and
Paraplegia.
One of the most significant spinal cord stimulator problems has to do with the U.S. Food and Drug Administration approval process:
"High-risk products like spinal-cord stimulators are designated to be held to the most rigorous clinical testing standards. But the vast majority of devices go through a less stringent review process that provides an easy path to market for devices deemed 'substantially equivalent' to products already approved for use… The AP found that the FDA has allowed some spinal-cord stimulators to reach the market without new clinical studies, approving them largely based on results from studies of earlier spinal stimulators."
Not every patient is a good candidate for a spinal cord stimulator implant. This is why it's important to first consult with your doctor or specialist about whether a stimulator device is a viable option for you or your loved one — as well as to report any spinal cord stimulator problems.
At SpinalCord, it's our goal to help spinal cord injury survivors and their loved ones stay up to date on the latest research, news, and developments concerning SCI research. If you or a loved one has suffered health issues after receiving a spinal cord stimulator implant, be sure to contact us today to speak with a spinal cord injury lawyer.
Topics:
Treatment, Recovery & Rehabilitation, Advice & Tips
Stay Updated on Advancements On Traumatic Brain &
Spinal Cord Injuries
About the Author
Spinal Cord Team
The authors of Spinalcord.com are made up of attorneys, those in the medical field, and survivors of spinal cord injuries or traumatic brain injuries. Learn more about our team of authors including a brief biography that explains how they impact the SCI and TBI community.
Learn More About the Author