Staying Active After an SCI: The 10 Best Sports to Play
Publish Date: December 07, 2020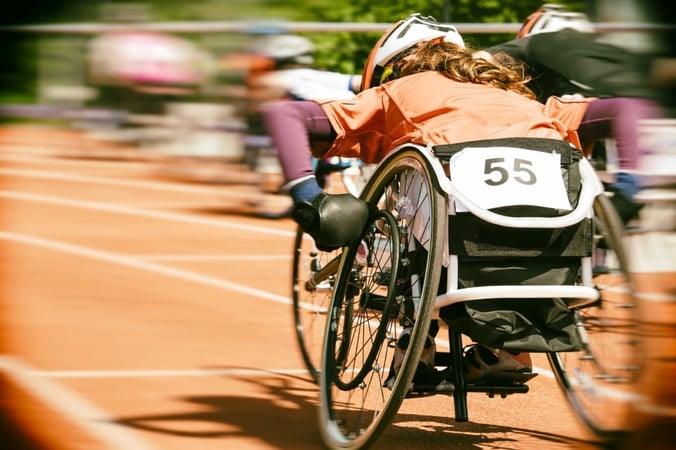 If you are someone who was physically active before sustaining a spinal cord injury (SCI), or if you're an SCI survivor who just wants to try something new, we have good news: There are a number of physical activities and exercises that you can still do with a spinal cord injury.
Staying active after an SCI is important to not only your physical health, but your mental and emotional well-being as well. This can be done in a number of ways, including yoga, accessible CrossFit, water aerobics, and weightlifting.
However, if you're someone who is more competitive or enjoys engaging in individual, pair and team sports, then you may be surprised to learn that there are still some sports you can engage in despite your injury.
Basketball
According to the National Wheelchair Basketball Association, wheelchair basketball got its start because of World War II veterans who were undergoing treatment for paralysis in 1946. The first games were between U.S. Veterans Administration (VA) hospitals in California and Massachusetts and the Corona Naval Station. Today, there are wheelchair basketball teams across the United States.
On the international level, wheelchair basketball remains a staple of the Paralympics, which is has been a part of since 1960. The sport shares many of the same rules and tactics of standard basketball but has some special rules to accommodate dribbling from a wheelchair.
Golf
If you enjoy a sport that is a little slower paced, golf can serve as an excellent option. Someone with a spinal cord injury head outside to the green with a few golf clubs and hit some golf balls. You can sit in your wheelchair or even play from a single rider golf club. And no matter whether you have use of both arms or just one arm, there's a golf handicap level that can meet your needs.
Hand Cycling
Developed in the 1980s, hand cycling is an excellent adaptive sport that allows people with poor balance, spinal cord injuries, and other injuries or diseases that limits or eliminates the use of their legs. The activity has steadily gained popularity and joined the International Paralympic Committee (IPC) in 1998 and the Paralympics in 2004.
Para Dance Sport
Wheelchair dancing is all about feeling and moving your body to the rhythm. It is an adaptive sport that is very versatile in nature, involving someone in a wheelchair dancing individually, with an able-bodied partner, or pairing up with another wheelchair user. Much like traditional ballroom dancing, it includes a number of standard dances, Latin American dances, freestyle, and even formation dances (group dances). For people in the San Diego area of California, the Wheelchair Dancers Organization offers free adaptive dance classes to youths, adults, and seniors.
The sport got its start in Sweden back in the late 1960s and has since spread to countries around the world. As part of the Paralympics, it is known as Para Dance Sport (formerly IPC Wheelchair Dance Sport).
Adapted Skiing
Skiing is an exciting, fast-paced sport for people who love the cold weather and outdoors, regardless of disability. Adapted skiing, which requires immense upper body strength, quick responses, and dexterity, includes:
Mono-skiing — you sit on a seat atop a single, central ski,
Bi-skiing — you sit on a seat atop two skis, and
Sit-skiing — you sit atop something that is a mix between a broad ski and a narrow sled).
Swimming
Swimming has been one of the main sports of the Paralympics since its inception in the 1960s. The aquatic activity offers a number of health benefits, including strengthening major muscle groups and the cardiovascular system, without the stress of high-impact sports. Due to the buoyancy of water, swimming also provides disabled swimmers with a unique sense of independence and freedom from assistive or supportive devices.
Water Skiing
If you enjoy the adrenaline rush of fast speeds and being out on the water, a water sport like water skiing may be an exciting choice for you. Much like traditional water skiing, adaptive water skiing involves you being pulled behind a boat, only you will be using adaptive equipment. Some participants elect to skim the water's surface while in an inner tube or engage in competitive water skiing, performing a variety of tricks and jumps.
Wheelchair Motocross (WCMX) /Hardcore Sitting
This sport is not for the faint of heart. Wheelchair motocross, or what is often known as "hardcore sitting," involves a wheelchair user wearing a helmet, elbow pads, and performing wheelies, stunts, and other tricks while strapped into their wheelchair. The sport gained even more of an audience in 2006 when Aaron "Wheelz" Fotheringham, a man born with spina bifida, rocked the wheelchair world by being the first person known to land a front flip, back flip, and double backflip while in a wheelchair.
See our interview with Tom Krieg: From Professional Motocross to It Still Works!
Wheelchair Racing
Racing isn't limited to only able-bodied individuals. Wheelchair racing is picking up traction and involves people from all walks of life who may not have ever raced until after sustaining a spinal cord injury. The sport helps to develop not only body strength but also aerobic stamina, better chair control and faster reaction times that can aid you in your everyday life.
Wheelchair Tennis
Wheelchair Tennis is a sport that is practiced in 100 countries worldwide and can be played individually or as part of a team. The sport is virtually identical to traditional tennis — even being played using the same sized court, rackets, and balls. This adaptive sport's only real difference is that the ball can bounce twice instead of just once.
According to the Paralympic website, "The sport was founded in 1976 due to the efforts by former US Freestyle skier Brad Parks" and has is now one of the fastest-growing wheelchair sports in the world.
So the next time you're sitting in your living room, wishing you were outside playing sports or having fun with others while playing a competitive game, just remember that you can still enjoy sports with a spinal cord injury.
Topics:
Spinal Cord Injury, Sports & Activities, Health & Exercise, Advice & Tips
Stay Updated on Advancements On Traumatic Brain &
Spinal Cord Injuries
About the Author
Spinal Cord Team
The authors of Spinalcord.com are made up of attorneys, those in the medical field, and survivors of spinal cord injuries or traumatic brain injuries. Learn more about our team of authors including a brief biography that explains how they impact the SCI and TBI community.
Learn More About the Author