Are Neuro-Spinal Scaffolds the Answer to a SCI Cure?
Bridges are full of symbolism. They have the capability of bringing two things together that would be impossible otherwise. Because of this, it should come as no surprise that bridges may hold the key to finding a cure for spinal cord injuries.
The bridge we speak of is called a neuro-spinal scaffold, or in other research labs across the world, it's called a nerve graft. Whatever you call it, researchers have put extensive time and money into this new area of research. When you combine a nerve regenerating serum with a neuro-scaffold/graft (or even a bridge), miracles could occur. In studies done in rats, many began walking because of this combo.
Currently, there are two ongoing trials that are hoping for this very thing. One is located in Estonia and is funded by BioArctic. The other trial is located right here in the United States and is funded by Invivo Therapeutics.
Read on for an overview of each of these exciting trials.
Invivo's Neuro-Spinal Scaffold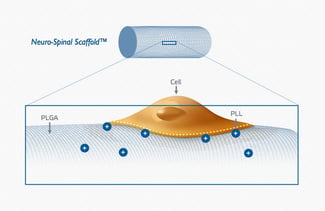 Founded in California in 2005 by scientists and professors dedicated to treating spinal cord injuries, InVivo Therapeutics is the leading biotechnology company in the United States of America that offers hope for curing spinal cord injuries because of their human trials. Their current trial uses their trademarked Neuro-Spinal Scaffold and is for those with acute-injuries.
This device is amazing and has been turning many complete AIS A injuries in to AIS B injuries, with some trial subjects receiving sensory return and some motor return. Technically it's a polymer scaffold that is trimmed to fit perfectly into the contusion site of the patient. It degrades over a matter of weeks after it's implanted, and the exciting part - it has a matrix of medication that has the capability of repairing the damaged spinal cord.
The scaffold also provides structural support to the injured spinal cord. Since the beginning of its clinical trials, dozens of people have been part of the study, mainly being recruited through hospitals. While no one is getting up and walking yet, many have been able to regain some movement and sensation below their level of injury.
In their current trial, 7 of the 13 patients improved at least one AIS grade in six months. Others reported the return of bladder and bowel functions and the diminishment of chronic pain.
Most recently, in March 2018 InVivo Therapeutics was cleared by the FDA for approval to begin their second clinical study of 20 patients. For more information, click here.
BioArctic's Nerve Graft
Located in Sweden, BioArctic is currently ahead of anyone else in the European Union when it comes to spinal cord injury research and human trials. They are currently undergoing Phase II of their trial targeting people with complete thoracic injuries. This study also uses a bridge, AKA a biodegradable nerve graft, that has two critical components.
The first component is FGF1, which is a growth factor that is part of the neural regeneration process. It also has a transplanted graft full of peripheral nerves that will protect new growth from inflammation at the injury site. The unfortunate thing for people in the United States is that it has not been approved by the FDA yet. People from Estonia and Sweden are only allowed in the study currently. For more information, click here.
Learn more:
Image courtesy of InVivo Therapeutic
Topics:
Spinal Cord Injury, Technology & Advancements, Research, Recovery & Rehabilitation
Stay Updated on Advancements On Traumatic Brain &
Spinal Cord Injuries
About the Author
Tiffiny Carlson
Since 1998, Tiffiny Carlson has been a prolific commentator on all things SCI in a number of prominent magazines, blogs and websites. Hailing from Minnesota, she was the SCI Columnist for New Mobility Magazine for 13 years and she currently works as the Executive Director of SPINALpedia, one of the leading websites for people with SCI to share videos and stories. She has been a C5-6 quadriplegic since a diving accident 24 years ago. Tiffiny has also been a fierce advocate for SCI research. In 2016, the Morton Paralysis Fund honored her for her work. While all SCI topics interest her, dating, love and the business of relationships have always been where her passion lies the most.
See More Posts