Swift Spinal Cord Injury Rehabilitation Improves Outcomes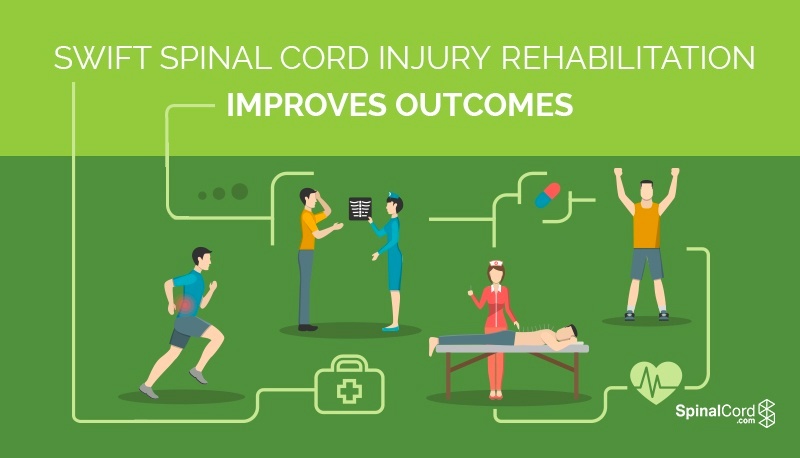 No one is ever prepared for tragedy to strike, and yet roughly 276,000 individuals are currently facing the aftermath of a spinal cord injury. The devastating effects of such an event can often greatly impair the motor skills and sensory function of those suffering, leading them with a daunting uphill battle ahead.
However, as recent research shows, there is little time for patients to dwell on the horrific events that have befallen them. When it comes to mounting a treatment and recovery plan, the sooner that you enter spinal cord injury rehabilitation, the better chances you have to limit or even reverse the damage that has been inflicted.
One Step Closer
Of course, the fact that immediate attention to a medical condition -- or, in this case, severe injury -- provides the best chances of restoring your health may not seem like the biggest of revelations. Still, many patients underestimate the role that swift action plays in how effective treatment can be, a connection that is becoming clearer with each passing year.
In fact, a new study by the Association of Academic Physiatrists (AAP) has reaffirmed that early inpatient rehab results in significant improvements in patients' functioning soon after release from the hospital and throughout the year that follows. Nearly 4,000 people -- all of whom suffered a spinal cord injury since 2000 -- were included in the data set, with an average of 19 days before starting rehab.
Those who were able to quickly transition into a rehab program saw the best results in their recovery, lending further credence to the belief that time is very much of the essence when it comes to dealing with spinal cord injuries.
Although some studies are committed to figuring out exactly what the optimal treatment plan may be for patients suffering from spinal cord injuries, the fact remains that physical therapy and other forms of rehabilitation have the greatest impact on the body when begun soon after the trauma itself.
The AAP -- which centers on the education and research of physical medicine and rehabilitation -- has recognized that about 12,000 U.S. citizens face spinal cord injuries each year, and with so much still unknown about this condition, the growing number of patients affected deserve answers.
The future will no doubt continue to shed light on exactly why the correlation between rehab admission and recovery is so high, but it's plain to see that patients suffering from these injuries are best served as soon as possible.
Now Is the Time
A spinal cord injury is a life-changing event that poses a challenging situation to overcome. However, spinal cord injury rehab can often help reduce the long-lasting effects and bring patients that much closer to returning to some sense of normalcy in their lives.
After all, an injury of this magnitude has just as drastic an impact on the emotional well-being as it does physical. If you or someone you know has suffered a spinal cord injury, the best thing you can do is to seek treatment immediately. More and more research is proving that these serious injuries will only do further damage if left unaddressed. You deserve the opportunity to reclaim your life. So don't waste another moment.
Topics:
Spinal Cord Injury, Injury Support & Groups, Recovery & Rehabilitation
Stay Updated on Advancements On Traumatic Brain &
Spinal Cord Injuries
About the Author
Robert Yaniz Jr.
Robert Yaniz Jr. has been a professional writer for more than a decade, including print and online publishing. His experience includes writing various materials for the marketing communications department of a global law firm.
See More Posts