Creating "The Cure Map" to End Paralysis with Kelsey & Madeline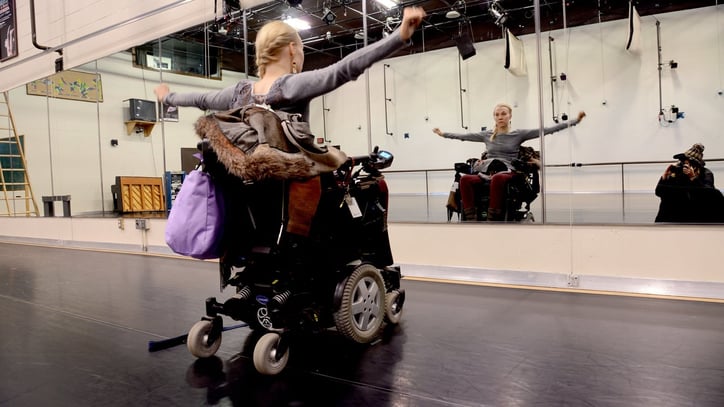 "Two women and a dog named Milo hit the road, camera in hand, in search of answers to bring us closer to finding a cure for paralysis." These are the words that Kelsey Peterson and Madeline Brown use to describe their project, The Cure Map, to inspire people to take action in support of curing paralysis.
This project, which has the two traveling from place to place to interview both researchers and people in the spinal cord injury community, was started with the hope of mapping a cure for paralysis and expediting the process of creating that cure.
Spinalcord.com recently interviewed the duo about The Cure Map film, their challenges, and what inspired them to get started.
A Bit About Madeline and Kelsey
Kelsey Peterson and Madeline Brown were friends before they were documentarians and spinal cord injury (SCI) activists. They "have been spending their summers on Madeline Island for years."
However, on July 4, 2012, Kelsey's life was forever changed. "I was partying and out really late and I went out to Long Island with some friends on their boat, and in an altered state of mind, forgot where I was and I dove into three feet of water." It was this dive into shallow water that broke Peterson's neck, as well as three separate vertebrae.
This injury paralyzed Kelsey, sidelining her dream to start her own dance studio. Yet, since starting work on the documentary, Kelsey says that "doing this film with Maddy has, in a big way, brought back those feelings I had when I was dancing or choreographing—something incendiary inside. It feels unbelievable to regain that sense of creativity and self-worth, just through a different medium."
Madeline describes Kelsey as "a storyteller with the most amazing ability to convey her heart and soul to those she meets… She's always searching and listening within herself and truly sets an example of self-empowerment and courageous essence."
Where Kelsey brings her perspective as an SCI survivor to the project, Madeline brings her skills as a photographer—she holds an MFA in photography. Kelsey describes Madeline as "smart, passionate, and super-talented and creative—she has a great eye, and a unique and daring approach and perspective. The way that she's become intimately involved with our subject has changed the way that the story is told through her lens, and in a really good way."
Fun Fact: Both Madeline and Kelsey love pesto (they say they're "obsessed"), overalls, earrings, shoes, and Milo—even when the dog is being naughty.
Why Do a Documentary?
When asked about why they specifically chose to do a documentary to promote the search for a cure to paralysis, the duo replied:
"Because it's a good way to start a conversation and have a big outreach. As artists, this is where our strengths lie and where we can be the most successful and creative, as well as relate and connect with an audience. The power of film is strong and so it seemed like the perfect avenue to reach out to people and get them to be a part of our story in a multi-sensory way."
The Challenges of Filming a Documentary Cross-Country
Making a movie that is filmed on-location in areas all around the country while also tracking down various members of the SCI survivor community and researchers to interview is no small task. Madeline and Kelsey had their work cut out for them when they decided to start filming a documentary.
Spinalcord.com asked the duo about some of these challenges, and how they overcame them. When asked if it was hard to find scientists and researchers to talk to for their documentary, the reply was:
"No. People were very receptive to us because they want us to succeed and we want them to succeed. We feel like what we are doing with this film compliments what these people are dedicating their lives to. It was important for them to reconnect with us and to actually see the people's lives that they're trying to make a difference in instead of just sitting in a lab all the time."
One of the biggest challenges was tackling common travel situations with a spinal cord injury. Traveling cross-country is tough enough without having to deal with paralysis. However, the pair persevered. Some of the tips and tricks they used to cope included "piggy backs, buying healthy food and having a cooler, staying hydrated, staying grounded, meditation and making time for ourselves. We realized you had to commit to the lifestyle of being on the road or otherwise it would have been so much more difficult."
It also helped that they took some time to really take in the places they were visiting and do stuff outside of their film for fun as well.
Another challenge for the pair was connecting with and interviewing other SCI survivors. Here, the internet was a big help. As they said in their interview with Spinalcord.com, "Social media was our secret weapon for sure. Instagram, Facebook groups and if you have a gym for people with disabilities or support groups in your area, that's a really good way to meet people who know what you're going through." These resources helped the pair connect with and set up interviews with members of the SCI community wherever they went.
However, that didn't prevent some "foot-in-mouth" moments, as Madeline called them. Talking to SCI survivors about their personal stories can be a little awkward, as some subjects can be really delicate. Madeline said that she's "the queen of foot-in-mouth moments in general life… I still have yet to stop telling Kelsy to just 'dive in' to certain situations." Yet, these moments are just another part of the documentary-making process, and she always tries to "really think about how to phrase and make sure that whatever I'm inquiring about comes from a place of genuine heart and curiosity to learn."
Conversations about SCI, even when they get uncomfortable at times, are vital for furthering understanding—both for SCI survivors and for those around them. And, that may be one of the best parts about this documentary that these wonderful women are making—it's starting a conversation that many might be too uncomfortable to start without provocation.
Everyone here on the Spinalcord.com team wants to thank both Kelsey Peterson and Madeline Brown for taking the time to talk to us and share their story. You can catch the trailer for their documentary right here:
If you want to learn more about the documentary, or show your support, you can use these links to do it:
Kickstarter: https://www.kickstarter.com/projects/thecuremap/the-cure-map
YouTube: https://www.youtube.com/channel/UC0uh96WZU_X46JIWSCqM6bw
The pair hope to have The Cure Map documentary film completely finished, edited, and released by Summer of 2018!
Topics:
Survivor Stories & Inspiration, Paralysis
Stay Updated on Advancements On Traumatic Brain &
Spinal Cord Injuries
About the Author
Spinal Cord Team
SpinalCord.com has been created as a resource for patients of spinal cord injuries and their families. Find everything you need to learn more about your injury, locate a doctor or treatment center, or discover financial relief to support you through this difficult time.
See More Posts